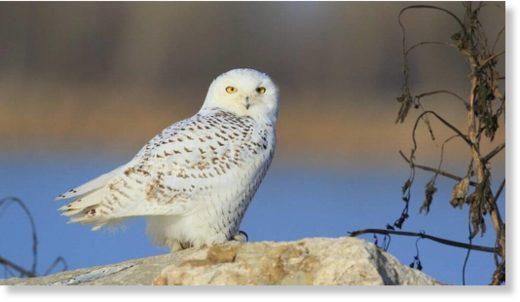 A snowy owl was found dead recently at Cheney Lake Reservoir.
It most likely starved to death.
It is among nearly a dozen snowy owls found dead this winter by wildlife officials,
and there may be more.
More than five dozen of the majestic white owls have shown up in Kansas this winter,
pushed far from their usual habitat of the Arctic.
"Several of us, based on information, believe three-fourths of the owls seen in Kansas will not survive,"
said Chuck Otte, secretary of the Kansas Ornithological Society. "That's not uncommon. These are first-year birds hatched this year. In the wild, 80 percent of birds do not survive the first 12 months. People get upset about this but it's a rough world out there."
Snowy owls are among the largest birds in North America, measuring 2 feet from head to tail. The only other bird to rival its size is the bald eagle. They gained recognition in wake of the Harry Potter books and movies, which featured Harry's snowy owl, Hedwig.
In the Arctic, the birds feed on lemmings and voles, small rodents. Lemmings were reported to have been in abundance in the Arctic this summer, allowing the snowy owls to raise more young. When fall arrived, the younger birds were forced to leave while the older ones claimed their territory.
The young birds typically migrate to northern states such as Michigan, Wisconsin and Minnesota. But an abundance of snowy owls there may have pushed the younger ones on south to states such as Kansas.
"The ones in the northern tier of states are fairly healthy," Otte said. "By the time they hit the Kansas air space, most are already doomed."
The birds are exhausted and hungry. Most of the deaths in Kansas are likely from starvation.
"Some people say go out and feed them," Otte said. "That's the last thing we want to do. Even if we were to keep them alive, what are they going to eat when they go back north this spring? People need to recognize basic wildlife philosophy. They need to realize they shouldn't get too close by taking photographs. They are adding additional stress to an already stressed out animal."