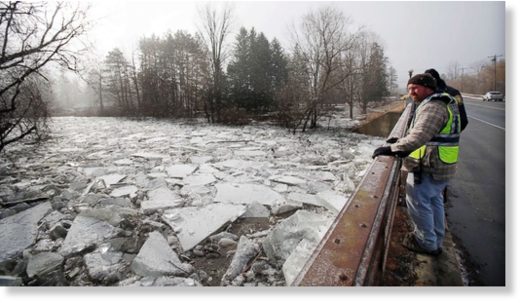 Winter weather conditions continue to plague the Northeast.
The combination of melting snow, mild temperatures, and heavy rain have caused numerous ice jams to form in several Northeast states, including Pennsylvania, New York, Connecticut, Vermont and Massachusetts. The ice jams have caused some evacuations in areas near rising creeks and rivers. The ice jams are also responsible for shutting down parts of roadways.
Despite much colder temperatures than the end of last week, the threat of ice jam-related flooding will remain on Sunday across much of the Northeast. Runoff from heavy rain in area waterways, combined with chunks of ice will continue to cause water levels to change. Some parts of the region have flood watches and advisories through Sunday. Some waterways will begin to refreeze on Sunday.
Ice jam on the Ausable River in Au Sable Forks NY. Video starts at noon (17:00Z) and ends at 3pm (20:00Z). They happen fast! #icejam #nywx pic.twitter.com/vO5HJQeCcU
— NWS Burlington (@NWSBurlington) January 12, 2018