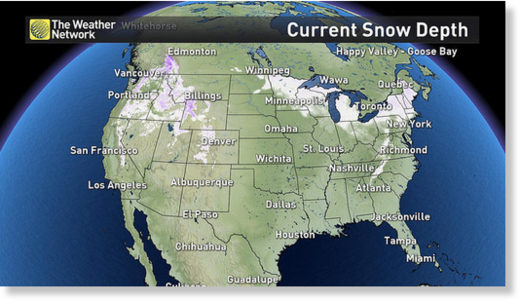 As of December 12 2017, 23.6% of the U.S. surface is covered with snow, but what is especially striking is that more than two weeks before Christmas day, all 50 states have seen snow on the ground despite much of it rapidly melting away in some areas. December marks a turning point towards more wintry weather,
but it is not so common to see so much snow on the ground this early, especially in some areas of the south
and more so with La Niña influencing U.S. weather.
Potent snow storm blankets the South
A total of
17 states saw snowfall
(see video below) in one degree or another late last week as a very active cold front colored in white a large swath extending diagonally from New Mexico and Texas, to New England.
Record breaking snow of a foot or more was recorded in some counties of Alabama, Georgia and North Carolina.
This storm was certainly the main contributor in terms of snow reaching states that normally do not see it until later in the season. Starting in southwest Texas and southeast New Mexico last Thursday, it then moved across much of the Southeast on Friday and eventually into the northeast U.S. by Saturday.
The snow even extended into the mountains and high desert areas of northern Mexico, but it was unbelievable was too see more than a foot of snow across some areas of the Deep South once the storm was over.
Sea surface temperatures in the Gulf of Mexico and off the Eastern Seaboard are 2 to 4oF higher than usual, and in some cases even higher. As this active weather system tracked east, it tapped in a considerable amount of moisture from the ocean, producing incredible amounts of snow especially along the southern end of the Appalachians.
Northeast Alabama, northern Georgia and extreme west North Carolina, saw the greatest amount of snow, with remarkable depths in Mount Mitchel, N.C.: 25.0 inches; Delta, La.:15.0 inches; and Clayton, Ga.: 14.0 inches. The list of larger urban areas with snow is also impressive, with Atlanta at the top as some sections of the metro area received close to 8.0 inches. Corpus Christi, Texas, and Jackson, Mississippi, saw more than 5 inches.