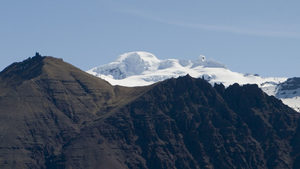 The last but one time Oraefajokull spewed ash into the sky, the area around it had to be abandoned for decades.
A long-dormant volcano in Iceland may be about to erupt, scientists fear.
The Oraefajokull volcano last spewed out ash and lava in 1728, but is showing renewed signs of activity.
A hole in the snow on the top of the mountain has been becoming 45cm deeper every day.
It is now more than 22 metres (72ft) lower than where it was before the activity began.
There has also been a recent increase in seismic activity and geothermal water leakage, volcanologists have said.
Experts at Iceland's Meteorological Office have detected 160 earthquakes in the region in the past week alone.
As a result, authorities have raised the volcano's alert safety code to yellow.
The University of Iceland's Ingibjorg Jonsdottir told the
Morgunbladid
newspaper: "We see a greatly increased pattern of fissures around the caldera. It's now more of a drop shape than a circle, lengthening towards the southwest."
Volcanologist Armann Hoskuldsson added:
"The geothermal energy is still present and it shows that it is far from a normal process there."
The caldera is about 100 miles (160km) from the Icelandic capital Reykjavik, but there are settlements within just a few miles.
When Iceland's Eyjafjallajokull erupted in 2010, the resulting ash plume brought widespread disruption to flights across Europe and the Atlantic.
Fears that the tiny particles of volcanic material spewed into the atmosphere would damage aircraft left millions of people stranded.
An evacuation plan has been put in place as Oraefajokull neighbours the main east-west route across the island.
The volcano has erupted twice in recorded history, in 1362 and 1727-28.
According to the Summitpost website, the 1362 eruption resulted in the greatest amount of rock, ash and other material being ejected out of any Icelandic volcano in history and in the area nearby being abandoned for decades.