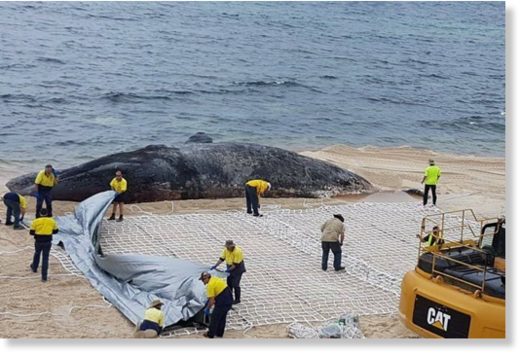 Leaders of a popular tourist town on Western Australia's south-east coast have been left with a 45-tonne headache, after a dead sperm whale washed up on a popular tourist beach.
Initially spotted last week, the carcass became caught on a reef offshore from Hopetoun, 574km southeast of Perth, on Sunday afternoon.
Shire of Ravensthorpe chief executive Ian Fitzgerald said the high tide had washed the mammal ashore by Monday morning.
"Obviously a rotting carcass, with the lovely aroma it gives off, plus the leaching of the waste into the water and the ground didn't make for a good environment," Mr Fitzgerald said.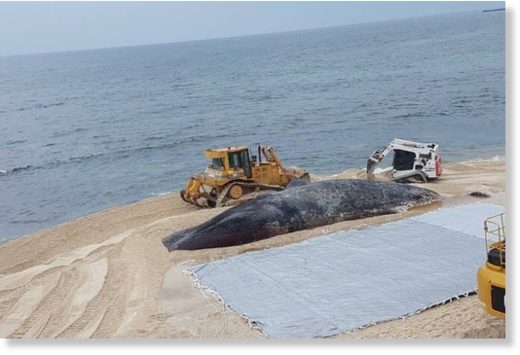 With the town expecting an influx of tourists ahead of Christmas, the potential risk to swimmers and surfers remains a paramount concern.
"It's a popular swimming area, not that far from Hopetoun itself," Mr Fitzgerald said.
It is the second dead whale to wash ashore in the region in recent weeks, with a carcass at Alexander Point east of Esperance attracting a large number of sharks.
It prompted both a public warning, and a quick-fire tagging program from the State Government, in a bid to boost the number of sharks monitored by WA's shark detection network.
Shark mitigation has emerged as a key problem in the area over recent months, following the death of 17-year-old Laeticia Brouwer at Kelp Beds Beach near Esperance in April.
The animal's immense size is posing a significant problem for the shire's small workforce, who are attempting to drag it off the beach.
Workers have rolled the whale out of the water, and have used a digger and bulldozer to roll the carcass onto a tarpaulin and cargo net for transportation.
"It's taking up a lot of time and resources when we should be working on roads ... but we just have to address this one."
After an initial attempt on Monday was unsuccessful, bigger equipment has been brought in.
All going to plan, the carcass will be dragged about 500 metres up the beach, deposited onto a flatbed truck and taken to Ravensthorpe for disposal.
"The carcass will be relocated to a dump site ... the recommended depth is 10 metres of cover over the top," Mr Fitzgerald said.
A shark warning remains in place for the area, with swimmers and surfers urged to take precautions until the whale carcass is removed.