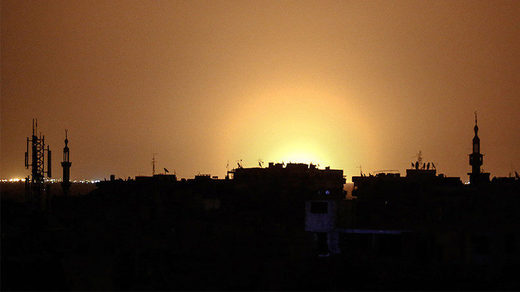 The "incident" in the vicinity of Damascus International Airport is in line with Israel's policy to prevent Iran's advanced weapons from reaching Syria, Israeli Intelligence Minister Israel Katz said.
Katz
told
Israeli Army Radio that "the incident in Syria corresponds completely with Israel's policy to act to prevent Iran's smuggling of advanced weapons via Syria to Hezbollah in Iran," according to Reuters.
"Naturally, I don't want to elaborate on this," Katz said, adding that "the prime minister has said that whenever we receive intelligence that indicated an intention to transfer advanced weapons to Hezbollah, we will act."
When contacted by RT to provide any details on the explosions near Damascus Airport, IDF press office repeatedly declined to comment on the incident and also refused to elaborate on Katz's statement. "He's not from the IDF," a representative of the Israeli military said on the phone.
Meanwhile, conflicting unconfirmed reports have emerged, suggesting either an airstrike or the bombing of a gas pipeline.
According to "senior" Syrian rebel sources who spoke to
Reuters
, the blasts allegedly struck an ammunition warehouse "used by Iranian-backed forces." At least five explosions were reported, although it was not clear if they were caused by a missile or an airstrike.
Meanwhile, Al-Manar, a TV channel affiliated with the Lebanese militant group Hezbollah, said in an unsourced report that the blasts at Damascus Airport were likely caused by Israeli Air Force strikes as cited by Reuters.
An unnamed "regional intelligence source" said the Israeli Air Force targeted Hezbollah's "arms supply hub" used to stockpile weapons and ammunition coming from Iran on "commercial and military cargo aircraft."
The source, who refused to provide further details, added the arms depot was crucial for Tehran-backed militias fighting Syrian rebels.
Asked if the IDF was involved in the incident, a spokeswoman for the Israeli military said: "We can't comment on such reports," said Al-Manar as cited by Reuters.
There have been no reports of casualties so far, and the extent of the damage is not yet clear. Syrian authorities are yet to comment on the incident.
Damascus International Airport was the country's busiest air hub before hostilities erupted in 2011. Since the onset of the Syrian war, most international airlines have ceased flights to Damascus.
The Israeli military is widely believed to have carried out air raids targeting Syria's anti-aircraft missile systems as well as Hezbollah positions, but it rarely confirms such airstrikes.
In mid-March, Israeli jets conducted airstrikes near
Palmyra
, destroying advanced arms provided to Hezbollah. Syria's air defense forces fired anti-aircraft missiles at the planes as they were returning from the mission. In response, Lieberman threatened to
destroy Syria's air defenses
if the country attacked Israeli warplanes again.