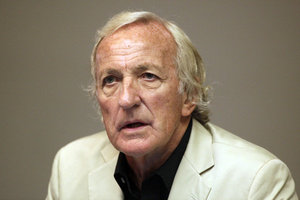 T.J. Coles, author of
Britain's Secret Wars
(2016, Clairview Books), talks to multi-awarded-winning journalist, author and filmmaker, John Pilger, about his new documentary,
The Coming War on China
, released in cinemas soon.
TJC:
Please tell us about your new film.
JP:
The Coming War on China
is my 60th film and perhaps one of the most urgent. It continues the theme of illuminating the imposition of great power behind a facade of propaganda as news. In 2011, President Obama announced a 'pivot to Asia' of US forces: almost two-thirds of American naval power would be transferred to Asia and the Pacific by 2020.
The undeclared rationale for this was the 'threat' from China, by some measure now the greatest economic power. The Secretary of Defense, Ash Carter, says US policy is to confront those 'who see America's dominance and want to take that away from us'.
The film examines power in both countries and how nuclear weapons, in American eyes, are the bedrock of its dominance. In its first 'chapter', the film reveals how most of the population of the Marshall Islands in the Pacific were unwittingly made into nuclear guinea pigs in a programme whose secrets - and astonishing archive - are related to the presence of a missile base now targeting China.
The Coming War on China
will be released in cinemas in the UK on December 1st and broadcast on ITV (in the UK) on December 6th.
TJC:
How do you assess Australia's role in America's 'Pivot to Asia'?
JP:
Australia is virtually the 51st state of the US
. Although China is Australia's biggest trader, on which much of the national economy relies, 'confronting China' is the diktat from Washington. The Australian political establishment, especially the military and intelligence agencies, are fully integrated into what is known as the 'alliance', along with the dominant Murdoch media. I often feel a certain sadness about the way my own country - with all its resources and opportunities - seems
locked into such an unnecessary, dangerous obsequious role in the world
. If the 'pivot' proceeds, Australia could find itself fighting, yet again, a great power's war.
TJC:
With regards to the British and American media, how can the US get away with selling China as a threat when it is encircling China?
JP:
That's a question that goes to the heart of modern-day propaganda.
China is encircled by a 'noose' of some 400 US bases, yet the news has ignored this
while concentrating on the 'threat' of China building airstrips on disputed islets in the South China Sea, clearly as a defence to a US Navy blockade.
TJC:
Obama's visit to Japan, and particularly to Hiroshima, was a really cynical act. What was your impression of Japan and the political situation there?
JP:
Japan is an American colony in all but name
- certainly in terms of its relationship with the rest of the world and especially China. The historian Bruce Cumings explores this in an interview in the film. Within the constraints of American dominance, indeed undeterred by Washington, Japan's current prime minister Shinzo Abe has developed an extreme nationalist position, in which contrition for Japanese actions in the Second World War is anathema and the post-war 'peace constitution' is likely to be changed.
Abe has gone as far as boasting that Japan will use nuclear weapons if it wants. In any US conflict with China, Japan - which last year announced its biggest ever 'defence' budget - would play a critical role. There are 32 US military installations on the Japanese island of Okinawa, facing China. However, there is a sense in modern Asia that power in the world has indeed moved east and peaceful 'Asian solutions' to regional animosities are possible.
TJC:
Do you think the new trade and investment deals like the Transatlantic Trade and Investment Partnership (TTIP) and especially the Transpacific Partnership (TPP) will affect China's business operations?
JP:
It's difficult to say, but I doubt it. What is remarkable about the rise of China is the way
it has built, almost in the blink of an eye, a trade, investment and banking structure that rivals that of the Bretton Woods institutions
. Unknown to many of us, China is developing its 'New Silk Road' to Europe at an astonishing pace. China's response to threats from Washington is a diplomacy that's tied to this development, and which includes a burgeoning alliance with Russia.
Comment:
More
about
Pilger's upcoming film:
When I first went to Hiroshima in 1967, the shadow on the steps was still there. It was an almost perfect impression of a human being at ease: legs splayed, back bent, one hand by her side as she sat waiting for a bank to open. At a quarter past eight on the morning of 6 August, 1945, she and her silhouette were burned into the granite. I stared at the shadow for an hour or more, unforgettably. When I returned many years later, it was gone: taken away, 'disappeared', a political embarrassment.

Another shadow now looms over all of us. ...

In secrecy, the biggest single American-run air-sea military exercise in recent years - known as Talisman Sabre - has rehearsed an Air-Sea Battle Plan, blocking sea lanes in the Straits of Malacca, cutting off China's access to oil, gas and other raw materials from the Middle East and Africa.

It is largely this fear of an economic blockade that has seen China building airstrips on disputed islands and reefs in the South China Sea. Last year, Chinese nuclear forces were reportedly upgraded from low to high alert.

This is not news, or it is news distorted or buried. Instead, there is a familiar drumbeat identifying a new enemy: a restoration of the psychology of fear that embedded public consciousness for most of the 20th century. The aim of The Coming War on China is to help break the silence. As the centenaries of the First World War presently remind us, horrific conflict can begin all too easily. The difference today is nuclear.

This is my 60th film, the majority for ITV and including those made for the cinema. Filmed on five potential frontlines across Asia and the Pacific during almost two years, the story is told in chapters that connect a secret and 'forgotten' past to the rapacious actions of great power today and to an inspiring popular resistance, of which little is known in the West.
...
Crossing the Pacific, I arrived in Shanghai for the first time in more than a generation. Then, Mao Zedong had recently died, and the cities seemed dark places, in which foreboding and expectation competed. Within a few years, Deng Xiopeng, the 'man who changed China', was the 'paramount leader'. Nothing prepared me for the astonishing changes today.

'I make the joke, ' says the Shanghai social scientist Eric Li in the film, 'In America you can change political parties, but you can't change the policies. In China you cannot change the party, but you can change policies. The political changes that have taken place in China this past 66 years have been wider and broader and greater than probably any other major country in living memory'.

This is one of a number of views from within China's new and confident political class that make a rare appearance in a western documentary. In Western 'media culture', these revealing voices are generally excluded, because they do not fit the received wisdom, a form of censorship by omission. Like the imperial Edwardians, we in the West still prefer to see Asia in terms of its usefulness or hostility to us, or its failings by our standards, which we promote as enlightened. The Coming War on China is about the imposition of this sense of superiority and its reckless power.
...
Andrew Krepinevich, a former Pentagon war planner and the influential author of war games against China, wants to 'punish' China for extending its defences to the South China Sea. He advocates seeding the ocean with sea mines, sending in special forces and enforcing a naval blockade. 'Our first president, George Washington, said if you want peace, prepare for war.' This speaks for a view dominant in political Washington.
...
Lying at the southern tip of Korea is Jeju Island, where a proxy US base has been recently completed. Nuclear submarines will dock here, along with the latest Aegis missile destroyers, less than 400 miles across the horizon from Shanghai. A people's resistance has been an everyday presence in the villages around this base for almost a decade. They are indefatigable; priests block the gates by staging a twice-daily mass, backed by people from all over Asia and the world. It is these voices that make the lessons of Hiroshima and Bikini more urgent than ever. 'We offer a choice,' says Fukimo, 'Silence or life'.