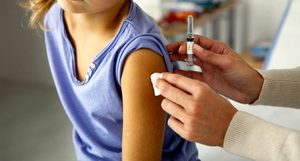 The American Academy of Pediatrics last week issued a dramatic statement to its members: It's OK to stop seeing families who refuse their shots.
The Academy also urged states to repeal laws that have allowed parents to use religion as an excuse for not getting their children inoculated.
New Jersey
has a liberal religious exemption policy
, allowing parents and guardians to submit a signed statement indicating "immunization interferes with the free exercise of the pupil's religious rights." No other documentation is required. The number of unvaccinated students is slowly climbing in the state.
An attempt to make it tougher for New Jersey families to get the religious exemption by requiring they explain how vaccines "would violate, contradict, or otherwise be inconsistent" with their religion
failed in the last legislative session.
The number of New Jersey children whose parents have requested a religious exemption has grown nearly 600 percent
, from 1,641 in the 2005-06 academic year to 9,506 in the 2014-15 year, according to the state Department of Health.
Children who skipped vaccines on religious grounds represent just 2 percent of the 506,000 preschool, kindergarten, first and sixth graders in the state,
according to state data.
Severing ties with patients and their families should be a last resort, according to the academy's report,
"Countering Vaccine Hesitancy,"
published in the September issue of the journal,
Pediatrics
.
Comment:
Read more about 'strategies' being implemented around the globe for 'countering vaccine hesitancy':
Vaccine Hesitancy: A new mental disease?
The World Health Organization (WHO) is very concerned about the problem of "vaccine hesitancy," which they say is threatening the effectiveness of their worldwide vaccination program. In short, some parents are not automatically allowing their babies to be vaccinated even though such services are available. They are pausing, thinking, and in many cases walking away with their babies in their arms, and leaving the vaccine filled hypodermic syringes to be used for someone else. Adults also are not responding to calls for receiving vaccines even when they are free.

As always, WHO is on the quest for 100% compliance with all vaccine schedules, and is warning the world that vaccine hesitancy is causing unnecessary illness and death. They believe that 1.5 million children die each year from causes that could be prevented by vaccines. [1, 2]

The WHO press release dated August 18, 2015 stated:

Vaccines can only improve health and prevent deaths if they are used, and immunization programs must be able to achieve and sustain high vaccine uptake rates. Vaccine hesitancy is an increasingly important issue for country immunization programs. [3]

The WHO press release further states:

There is no "magic bullet," or single intervention strategy that works for all instances of vaccine hesitancy. The magnitude and setting of the problem varies and must be diagnosed for each instance to develop tailored strategies to improve vaccine acceptance.[4] [Emphasis added.]

WHO is working to build an image in the minds of the public that vaccine hesitancy is a condition that requires diagnosis. It is much like a disease or mental illness, which they intend to treat through various mind control strategies.
Pediatricians ought to invest the time listening to parents, discussing the data that show the safety of vaccines, and even "personalize" the conversation by describing their own choices as a parent.
Fortunately, most vaccine-hesitant parents are responsive to vaccine information, consider vaccinating their children, and are not opposed to all vaccines," according to the report.
"The decision to dismiss a family who continues to refuse immunization is not one that should be made lightly, nor should it be made without considering and respecting the reasons for the parents' point of view," the report continued.
"Nevertheless, the individual pediatrician may consider dismissal of families who refuse vaccination as an acceptable option," according to the report. "In all practice settings, consistency, transparency, and openness regarding the practice's policy on vaccines is important."
The academy's report is the strongest statement yet on vaccine refusal.
The issue intensified
after a measles outbreak in Disneyland
sickened 147 people, including 131 people in California from December 2014 to April 2015.
In 2010, 75 percent of pediatricians surveyed said their patients' families had reservations about vaccines. By 2013, 87 pediatricians said they had been met with resistance, the report said.
Margaret Fisher, a pediatric disease specialist who works at Monmouth Medical Center in Long Branch, embraced the academy's decision to confront the issue.
"I think it will be helpful. I can easily see both sides of the story. We never want to punish a child for the family's behavior. We want to be sure the child gets the best possible care," Fisher said. "I could also see how (a pediatrician) may not want these patients in their practice."
The pediatrician must explain how unvaccinated children who share a doctor's waiting room with other kids are at risk, Fisher said. Infants are born with maternal antibodies that guard against diseases like measles, whooping cough, but every month the baby loses some of those antibodies until they are depleted at six months, Fisher said.
The schedule of shots may seem excessive, but the academy reviews it every year for its efficacy and safety, Fisher said. "it's not because we want to use them a pin cushions. It's because we want to be sure they will always be protected," she said.
But Nutley pediatrician Barry Prystowsky said he "resents" the academy's "hidden message" that says, " 'We don't trust you to talk to your patients and deal with them. We don't want you to have that liability risk.'"
For years, he has counseled anxious parents who have reservations about vaccines, Prystowsky said.
"Eventually I won most of them over, although not all of them. Sometimes it took more than a year or two." If the parents requested that he alter the schedule of the recommended vaccinations, "whatever they were comfortable with, I did."
"I would never ever leave a patient over a personal decision," added Prystowsky, a 30-year pediatrician who carried on his father's practice. "That is slap in the face."
The highest concentration of children excused from vaccines on religious grounds are in Hunterdon County (4.8 percent of the student population), Monmouth County (3.5 percent) and Sussex County (3.4 percent), according to health department.
Clusters of unvaccinated children poses a risk to children who are too young to get all the required vaccines, or can't have them because their immune systems are too weak, the academy said.
"People today may not remember that before vaccines, disease like whooping cough, meningitis and diphtheria sickened and claimed the lives of thousands of children and adults each year in the United States," said Kathryn Edwards, an academy member who co-authored the report.
Sue Collins, co-founder of the New Jersey Coalition for Vaccination Choice said she was troubled by the academy's singular focus on vaccines.
"This statement has taken away the ability of pediatricians to provide individualized medical care and what is best for their patients," Collins said.
"When did pediatric medicine become only about administering vaccines? One size does not fit all in medicine and in life, vaccination included."
Deputy Health Commissioner and pediatrician Arturo Brito declined to comment directly on the academy's advice.
"The Department encourages parents who have concerns about vaccines to discuss their health care providers," Brito said. "The Department's goal is to have as many people as possible vaccinated to protect against the spread of disease."
About the author
Susan K. Livio may be reached at slivio@njadvancemedia.com. Follow her on Twitter@SusanKLivio. Find NJ.com Politics on Facebook.