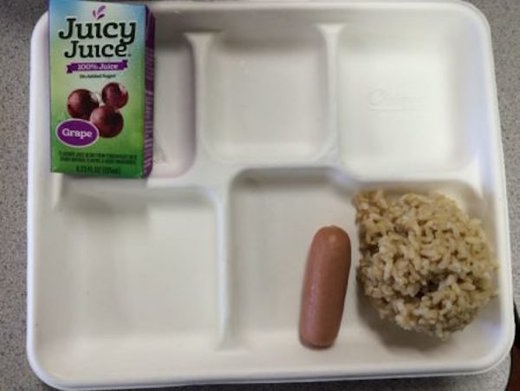 At Waipahu High School in Hawaii, students recently received
a scoop of rice and a tiny "ham link"
for breakfast, and parents were understandably upset.
At least one parent wrote in to
KHON
to complain about the paltry school breakfast served to students Tuesday, and officials are now scrambling to explain away the "unacceptable" meal.
"One of my friends even said if my kindergartner was given this, she'd probably get upset," the unidentified mother told the news site.
The woman explained that students are often subjected to uncomfortably hot classrooms, and the skimpy breakfast only makes matters worse.
"To me, that's just unacceptable to have such a small meal like that provided before they have classes in the heat, and just the misery and bad conditions that they're in with the heat alone, I just feel like it's unacceptable," she said.
The "meal" - which included the rice scoop, "ham link"
and a box of "Juicy Juice" grape juice on a tray with three other empty spots
- cost $1.20, but Department of Education officials told the news site that students could purchase a second plate for $2.40.
The less-than-appetizing school breakfast is
the latest in a long line of disgusting and inedible school meals served to students following restrictions on calories, fat, sugar, sodium and other aspects of school meals imposed by the federal government at the urging of first lady Michelle Obama in 2012
,
EAGnews
reports.
Since that time,
more than 1.2 million students have dropped out of the National School Lunch Program
, and
school food waste has increased by more than $1 billion a year
. In many schools, students have turned to posting their revolting school food on Twitter with the hashtag #ThanksMichelleObama.
Regardless, registered dietitian Kristen Lindsey-Dudley defended the recent meal at Waipahu High School as meeting federal regulations with the ham link of "just one ounce, because usually it's served with milk I believe, so that's another serving of that."
Lindsey-Dudley claims the ham and rice breakfast constitutes a balanced meal.
"That's kind of like a drop in the bucket for a high school kid, but it gets them started, because many high school kids don't eat breakfast," she said. "It's enough for that time of the day. Your appetite really kind of builds as you go, so for breakfast, usually the appetite is the least."
District officials told KHON that the breakfast meets federal regulations because they offered at least four items - ham, rice, milk, juice, and an orange. Students were also offered cereal, an orange, wheat toast, juice and milk, officials said.
The news site noted that parents of Waipahu High School students weren't the only ones to complain about the Tuesday school breakfast.
"A parent from Kohala Middle school also sent us a similar picture," KHON reports.