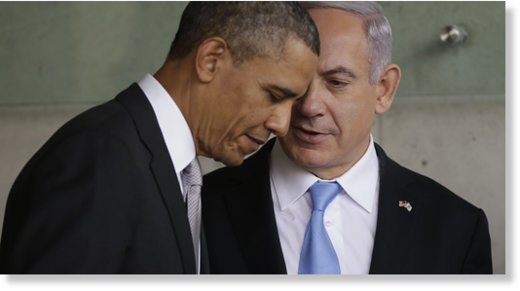 US aid to Israel is in violation of a 40-year-old law, a new lawsuit purports.
In 1976, the United States government enacted the International Security Assistance and Arms Export Control Act. Among other things, the law states that the executive branch cannot authorize financial aid for nuclear countries that are not party to the Nuclear Non-Proliferation Treaty.
A lawsuit filed by the Institute for Research: Middle Eastern Policy on Monday argues that Washington's tangible support for the Israeli government violates the law.
Since the year that the Arms Export Control Act went into effect, the United States has provided resources worth an estimated $234 billion to Israel, despite the fact that the Middle Eastern nation is
widely known to be in possession
of nuclear weapons, while not being a signatory to the nonproliferation treaty.
Grant Smith, the institute's director, filed the suit, arguing that the violation has continued through the Obama Administration.
The suit accuses the US government of helping Israel cover up its nuclear weapons program. In 2012, for instance, the US Department of Energy and US State Department passed a gag law dubbed, "Guidance on Release of Information relating to the Potential for an Israeli Nuclear Capability."
In 2008, former US President Jimmy Carter stated to reporters that the Israeli government is in possession of "more than 150 nuclear weapons."
The United States is currently finalizing a plan to boost Israeli aid to $4 to 5 billion a year.
"The billions sent to Israel annually have become such a centerpiece of US policy that it is virtually unthinkable that they would let a little thing like its overt illegality get in the way," Jason Ditz writes
for AntiWar.com
.
"Still, if they lost this lawsuit they'd be obliged to either end the aid or change the law to admit Israel can flout this restriction."