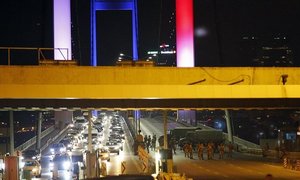 Part of the military is attempting a coup in Turkey, the country's Prime Minister Binali Yıldırım said, following reports of military jets and helicopters flying low over Ankara and Istanbul.
"Some people took illegal action outside of the chain of command,"
Yildirim told news network NTV.
"The government elected by the people remains in charge. This government will only go when the people say so,"
he added.
According to the PM, Turkish security forces were doing what needs to be done to resolve the situation.
The Turkish military has issued a statement saying that
it has taken over power in the country from President Recep Tayyip Erdogan
.
"
Turkish Armed Forces have completely taken over the administration of the country to reinstate constitutional order, human rights and freedoms, the rule of law and the general security that was damaged
," the military said. "
All international agreements are still valid. We hope that all of our good relationships with all countries will continue
."
CNN Turk later reported that president Erdogan, was safe, despite claims by the military that they've taken over.
A military helicopter has reportedly opened fire
in the district of Ankara
where the Turkish National Intelligence Organization headquarters is situated
.
State-run Anadolu news agency reported that
the Turkish military chief of staff was among those taken hostage
by the pro-coup forces in Ankara. The hostages are being held at military HQ in the capital.
The office of Erdogan's ruling AKP party in Istanbul has been surrounded by soldiers
, according to Twitter reports.
According to local news agencies,
a large number of ambulance vehicles has been sent towards the Turkish General Staff building
in the capital.
Ankara's mayor, Ibrahim Melih Gokcek, used Twitter to call on all the citizens to take to the streets.
"Everybody to the streets,"
he wrote.
Shooting is being reported
in the Turkish capital, Ankara, with military jets and helicopters seen in the sky above the city.
Around midnight local time, a TRT anchor announced
the country was now run by a "Peace Council"
that will ensure the safety of the population.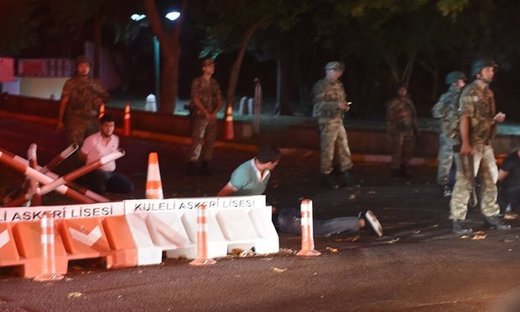 Tanks have been posted outside Istanbul's Ataturk International Airport and in other locations in the city.
Access to Twitter, Facebook and YouTube is being blocked, while the state-owned TRT television has gone off the air, according to reports from inside Turkey. It's website shows weather.
According to reports on Twitter, the authorities have closed the two Bosporus bridges in Istanbul, where military jets have also been spotted flying.
People are standing in lines to get money from ATMs.
US Secretary of State John Kerry said he hopes for "peace and continuity" in Turkey, AFP reported.
Meanwhile, all flights were cancelled at Ataturk Airport in Istanbul on Friday night.
Facebook and Twitter services were blocked in Ankara on Friday, RIA-Novosti reported.
According to local media, all security personnel have been urgently called in to work.