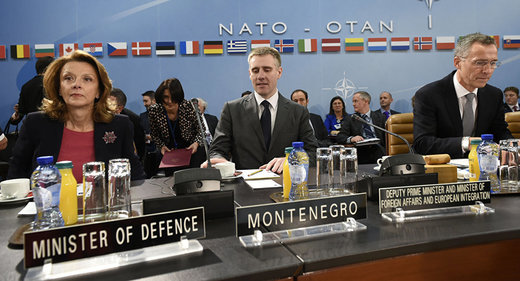 Montenegro is only a little pawn in the big chess game of international politics.
NATO's recent decision to invite the small Balkan nation to start the accession talks on join the military alliance isn't an unexpected turn of events and it won't change the course of the larger game, Giuseppe Cucchi wrote for the Italian political magazine Limes.
Being sandwiched between the European Union (EU) and Russia and its economy equally dependent on the two opposite camps, Montenegro has always had to make a tough choice with which side to align itself.
Moscow was happy to extend its hand of friendship to maintain old ties with Podgorica. However, hoping that a union with NATO would bring security and EU membership would lead to economic prosperity Montenegro decided to abandon their old friendship with Russia.
As the government in Podgorica chose to embrace the EU and NATO, Russia understandably is a little upset, but it won't do anything beyond "verbal gestures," Cucchi said, as cited by Limes.
Meanwhile, NATO is not considering the interests of others and keeps expanding further to the East.
"Decision making influences the inertial force with which NATO, which is bloated and too bureaucratic, is accustomed to follow its path without looking at the interests of others," Cucchi said, according to Limes.
Finally, one needs to understand that the Western military alliance believes that the "newly" found idea of Russian containment would allow it to forget about the years of decline and sooth existential doubts that began to arise within the organization, the Italian journalist said.
The EU and Montenegro opened formal negotiations on Monday concerning another two chapters on the country's accession into the bloc.
Back in 2008, Montenegro submitted its application for EU membership. The following year, its citizens were granted a visa-free access to the EU's Schengen zone and in 2010 the country signed the Stabilization and Association Agreement with the EU.