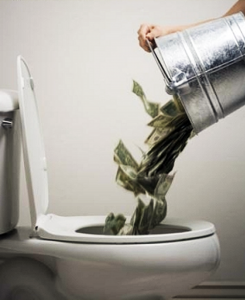 Earning a little money on the side may now be as easy as having a bowel movement, thanks to
Open Biome
- a nonprofit organization that harvests stool.
Why harvest stool? For fecal transplants.
Fecal microbiota transplantation is used to treat a condition called Clostridium difficile, or
C. diff, infections
of the gut. In a healthy person, helpful gut bacteria force C. diff bacteria out of the digestive system via a bowel movement. C. diff infections happen when healthy gut bacteria has been wiped out, most commonly by prolonged antibiotic use. Because the healthy gut bacteria can't do its job, C. diff grows uncontrolled, causing intestinal inflammation and diarrhea.
Fecal transplants are 90 percent successful in treating C. diff infections, which, according to Open Biome, are linked to 14,000 to 30,000 U.S. deaths annually, and add $1 billion to U.S. healthcare costs each year.

Like a Blood Bank, But for Stool
That's where Open Biome comes in. The nonprofit provides hospitals with screened, filtered, and frozen fecal matter, dramatically cutting the time it takes for a C. diff patient to have treatment. Open Biome provides fecal matter to more than 150 hospitals in 36 states. As of November, 2014 they had collected approximately 120 pounds of excrement.
The screening process is vigorous. Potential donors must go through a 107-question clinical interview and pass 27 laboratory tests on their blood and stool before they are accepted. Donors must have a body mass index of less than 30, be between the ages of 18 and 50, and limit their foreign travel. Only the healthiest people are accepted.
Once accepted, participants are expected to donate stool samples four times per week for 60 days. The job comes with perks. Prospective donors are paid $40 for being tested, and once they're approved, Open Biome pays them $40 per sample. If you come in five days per week, you get a $50 bonus. At $250 a week, a year's worth of donations can net you $13,000.
How Fecal Transplants Are Done
A healthy donor provides a stool sample, which is then filtered and mixed with saline.
The mixture is "transplanted" via a colonoscopy or a nasogastric tube (a tube that runs from your nose down into your stomach). (A 2014 study published in the
Journal of the American Medical Association
found that capsules containing fecal matter are as effective as other types of fecal transplants. However, this method is not yet routinely used.)
Once a person has the fecal transplant, the new bacteria help balance the recipient's gut bacteria - often stopping the C. diff infection within days.
Want to Donate?
There's a catch: you'll have to live near OpenBiome's lab in Medford, Massachusetts, in order to make donations.
Open Biome isn't the only organization interested in your feces. (Although they are the first to collect it this way.) The FDA has repeatedly tried to
regulate fecal transplants
, and stool donations have been used to fuel research studies beyond C. diff treatments.
According to the
National Institutes of Health
, several studies are examining the effect of fecal transplants on inflammatory bowel diseases (IBD) such as ulcerative colitis and Crohn's disease. Clinical trials studying fecal transplants and type 2 diabetes, metabolic syndrome, obesity, irritable bowel syndrome (IBS), hepatic encephalopathy, and HIV are
currently recruiting
.
Given the interest in fecal transplants, and with increased awareness and additional funding, it's likely more donation centers will be available in the future.
Jordan Davidson is a freelance medical writer with a Bachelor of Science degree in psychology from
Fordham University
and has published research in evolutionary psychology.