NATO supreme commander in Europe, General Philip Breedlove, warned Russia against any attempt to "annex" Transnistria.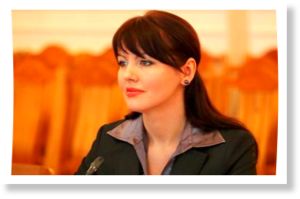 The Foreign Affairs Minister of the Transnistrian Moldovan Republic, the very glamorous Nina Shtanski, welcomed the outcome of Crimea's referendum on self-determination and recalled that on 17 September 2006, in an analogous vote, 97.2% of Transnistrians had come out in favor of becoming part of the Russian Federation.
The President of Transnistria's Parliament, Mikhail Burla, wrote to his Russian counterpart asking him to pass a law on the accession of Transnistria to the Russian Federation emulating, what has been done for Crimea.
The President of Moldova, Nicolae Timofti, asked the European Union to speed up the signing of an association agreement so as to have a lock on Transnistria's legal attachment to his country.
The President of the Transnistrian Moldovan Republic, Yevgeny Shevchuk, went to Moscow to discuss the situation of his country's Russian-speaking population following Kiev's closure of the Ukrainian border.
Moldova declared its independence on 19 August 1990. Just as, at the time of the USSR, Crimea was administratively attached to Ukraine, Transnistria was attached to Moldova, from which it declared independence one week later, on 1 September. However, Moldova was admitted to the UN, but not Transnistria, which has existed for 24 years as an unrecognized state. In June 1992, NATO tried unsuccessfully to resolve this issue through force, killing more than a thousand people, but had to back off due to the resistance of the population
1
. Since then, the country's security has been provided by a contingent of Russian peacekeepers.
References
[1] "En 1992, les États-Unis tentèrent d'écraser militairement la Transnistrie", by Thierry Meyssan, Réseau Voltaire, 17 July 2007.