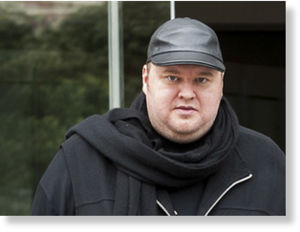 The US-based attorney for Megaupload says the American government's arguments against his client are more outrageous than ever now as news breaks that the Justice Department practically set up the file-storage site for their current legal nightmare.
A year-and-a-half before the high profile raid on Megaupload founder Kim Dotcom's New Zealand mansion and the subsequent seizure by the FBI of his highly successful file-sharing site, Dotcom and his colleagues helped the Justice Department by what attorney Ira Rothken tells
Wired
was an example of being "good corporate citizens."
Rothken tells
Wired
that in June 2010, the Justice Department served Megaupload with a search warrant in order to access their servers leased through Virginia-based Carpathia Hosting.
"Megaupload complied with the warrant and cooperated with the government's request," Rothken says, noting that the website received "a number of such warrant and subpoena type requests a year and still have an expectation that as classic 'online service providers' they are immune from liability for the acts of users who are the target of such warrants and subpoenas."
According to Rothken, the government was interested in locating copyright-infringing files hosted on those servers by the alleged operators of NinjaVideo, a separately-managed file-sharing site that has also been targeted by the DoJ. After agreeing to cooperate with authorities, Rothken says Mega was told not to touch those allegedly infringing files while an investigation was underway. When an indictment was unsealed against Dotcom and his website this past January, though, the government charged Megaupload with allowing those files to stay on their servers.
"Obviously when the FBI contacted us they made this clear to us and therefore we did not touch the accounts or the files," Dotcom tells TorrentFreak. "We even emailed back to Carpathia to ask the FBI (and the FBI had our emails before asking for the Mega domain seizure) if we should do anything about those files. We never got a response."
In a statement issued by Dotcom this week, he says, "To use this against us and to tell a Judge that the Megaupload domain seizure is justified because we have not removed those 39 files is totally unethical and misleading."
Speaking to TechDirt, Rothken calls the government's argument "outrageous."
"If anything, such a cooperation request by the government bolstered Megaupload's view that as a cloud storage intermediary it was operating lawfully even if some users may have been misbehaving," Rothken says.
US prosecutors alleged that Dotcom and his colleagues masterminded a criminal conspiracy to rake in millions of dollars by hosting illegal files on their servers that could be shared among users. Attorneys for the website say Megaupload should be free from prosecution, though, since a safe harbor privision in the United States' Digital Millennium Copyright Act allows service providers to avoid lawsuits if they comply with requests to take down infringing material.
A court is expected to decide next year if Dotcom can be extradited to the US to stand trial, but a New Zealand attorney working closely with the case told MSN this week that there is a "high likelihood" that hearing will be bumped, marking the second time it's been rescheduled so far.