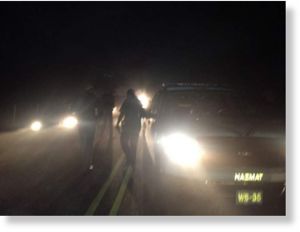 Northwest Louisiana authorities are investigating the source of whatever shook people's residences and businesses about 11:40 p.m. Monday. The Webster sheriff's office now is entertaining the possibility that it may have been a meteorite, possibly in the Dixie Inn area. There have been a large number of reports stating that they saw
something come down instead of something blow up
, a spokesman said.
And a woman reported hearing what sounded like debris hit a shop on Bellevue Road in the Dixie Inn area. If it was a meteorite, that would fall to NASA and the Air Force to investigate. A spokeswoman for Barksdale Air Force Base public affairs said that the installation is investigating and that whatever the source, it didn't originate at the base.
Webster authorities still don't know what it was or where it hit, Sheriff Gary Sexton just said. Thermal-imaging cameras showed nothing off Elmo Burton Loop near Dixie Inn, but helicopters are expected to be in the air this morning to survey the area along U.S. 80 and Interstate 20 for the cause of what caused the ground to shake.
Reports of the shaking came in from Lake Bistineau, Springhill, Sibley and Barksdale Air Force Base.
Sexton earlier said he was driving in the Springhill-Cullen area when he saw two flashes from the south.
One report says it shook the Webster Courthouse in Minden.
A resident of the Lake Bistineau area reports that
it almost shook their house off its foundation
.
A number of reports of a loud boom, shaking, rattling and possible damage -- including
broken windows
-- in the area west and northwest of Minden have been coming into the National Weather Service office in Shreveport. "I don't have any idea what it was," Mark Murphy said. "A lot of calls have mentioned all kinds of scenarios, but I don't know for sure anything."
No earthquake is being reported in this area, according to the U.S. Geological Survey's real-time earthquake map.
And a Calumet spokesman says windows shook in the Cypress Lake area, north Bossier Parish and western Webster Parish and that the source is not the company's facility in Cotton Valley nor is it the Princeton location.
Here are some other observations as noted by excerpts from Facebook postings:
Carol Hines:
I felt that all the way over here on Ellerbe Road!!!
Elaina McKissack Pepper:
... No damage but me and Zeb both got up and started checking on the kids because we were sure something was very wrong. After checking outside, Zeb gave up. It shook our whole house kind of like an earthquake.
Karri Vaughan Smith:
Scared me to death ... !!!
Lela Bryan Lemoine:
In Minden, felt like our house was hit by something. Didn't really hear anything though. But scared the heck out of us!
Angela Bogues Davis:
We live on Fort Ave. I was upstairs and our house shook and swayed.
Judy Savell Jackson:
... I heard and felt it at my house, but so did everyone else in Minden and surrounding areas!
Mickie Howard Young:
I felt the explosion here in S. Sibley, I thought it was the pipeline at first. Shook the entire house, but we have no damage. Just a heart that nearly jumped out of my chest.