About Seeker My mother once said to my wife, "Do not trouble yourself by thinking it is your job to solve his problem. He has always been troubled and I suspect he always will. He brought it with him and he has to sort it." And so it is. I have always been seeking. I have always had a terrible itch, a pain even. I have always known there was a world elsewhere than the one reality reveals. I have always been in search for the divine. Along with my work as a theatre and opera director, and my life long interests in history, the natural world, the arts, philosophy, religion and geo-politics, I have thus immersed myself in the language and history of ancient myth and the mysteries of The Work. It has led me, via The Secret History of the World, to this website. The rest is in the moment. Thought. Mind. A search for Deepening.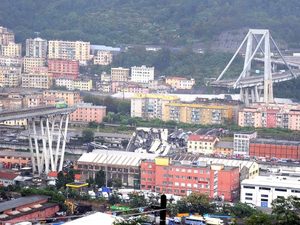 14 August 2018: Morandi Bridge in Genoa, Italy, collapses during a storm, killing 35 people
The eye sees only what the mind is prepared to comprehend.
- Robertson Davies
Recent Comments
I KNEW THIS ALREADY, IT WAS ALWAYS THE UK THAT MEDDLED, AND YET THE USA STILL BLAME RUSSIA, NOW, LETS SEE IF THE US TAKES BACK THE BULLSHIT...
---
At least they are finally being taught something they can use later in life. From my experience the only thing I've used since HS is math and...
---
Like a father who hits his children, eventually the children grow up and make their own way in the world - allbeit batteries and injured - the US...
---
It is refreshing to hear a country own up to a its own responsibility in its situation. A good step could be to approach Russia with this honesty...
---
To aquire moral capacity you first have to want it, which means recognising the truth of your current ammoral behaviour. That's why we incarcerate...