About Seeker My mother once said to my wife, "Do not trouble yourself by thinking it is your job to solve his problem. He has always been troubled and I suspect he always will. He brought it with him and he has to sort it." And so it is. I have always been seeking. I have always had a terrible itch, a pain even. I have always known there was a world elsewhere than the one reality reveals. I have always been in search for the divine. Along with my work as a theatre and opera director, and my life long interests in history, the natural world, the arts, philosophy, religion and geo-politics, I have thus immersed myself in the language and history of ancient myth and the mysteries of The Work. It has led me, via The Secret History of the World, to this website. The rest is in the moment. Thought. Mind. A search for Deepening.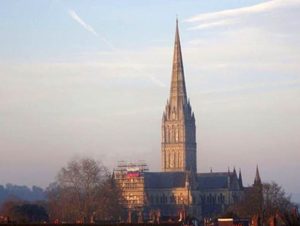 Salisbury Cathedral, 17 February 2019. Did you know? The spire is 123 meters tall, and famous throughout Europe...
When we talk about compassion, we talk in terms of being kind. But compassion is not so much being kind; it is being creative [enough] to wake a person up.
- Chogyam Trungpa Rinpoch
Recent Comments
Over a two-year period preceding the 2016 election, one hundred and twenty-six million Americans saw Russian-backed content. Facebook was at best...
---
I have never formally sworn allegiance to the Federal Republic of America, nor to sustain or uphold its Constitution, save for the brief period I...
---
If the Nazi Aeronautics and Space Administration says there is nothing to worry about....it is time to seriously panic...
---
"... magnetic field lines can get contorted..." There are no such things as field lines. This is a reification of a graphical representation....
---
Hairy KamelToe sleeps her way to the top [Link]