About Seeker My mother once said to my wife, "Do not trouble yourself by thinking it is your job to solve his problem. He has always been troubled and I suspect he always will. He brought it with him and he has to sort it." And so it is. I have always been seeking. I have always had a terrible itch, a pain even. I have always known there was a world elsewhere than the one reality reveals. I have always been in search for the divine. Along with my work as a theatre and opera director, and my life long interests in history, the natural world, the arts, philosophy, religion and geo-politics, I have thus immersed myself in the language and history of ancient myth and the mysteries of The Work. It has led me, via The Secret History of the World, to this website. The rest is in the moment. Thought. Mind. A search for Deepening.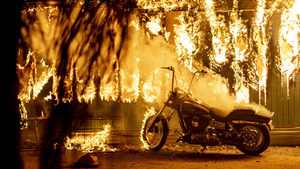 The Woolsey Fire in Malibu, California, November 10, 2018
He who passively accepts evil is as much involved in it as he who helps to perpetrate it. He who accepts evil without protesting against it is really cooperating with it.
- Martin Luther King, Jr.
Recent Comments
They'll get into the US easily there are no crusaders LM just big mouth militia who talk a lot and shoot animals when confronted with a real...
---
Is this just karma for CPL ... or just a indication of what happens if you mess with the wrong people A month ago this clown appears and MSM is...
---
Perfect Comment-in-Blue!
---
@Finch Exactly! We know very little and DO even less. (Hand over my shut eyes)
---
Gosh! I m glad i m 57! Out of all those crazed scenes. Amen