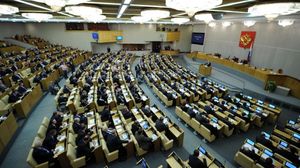 The US says it has been worried by a Russian bill that would force non-governmental organizations (NGOs) financed by other states to register as "foreign agents."
"The Russian people, like people everywhere, deserve the right to be heard and have a voice in government. That's why we've raised our concerns about the potential passage of this new NGO legislation," said Patrick Ventrell, a spokesman for the US Department of State.
The comments came after Russia's lower house of parliament, the State Duma, has passed the bill in its first reading.
The bill, if passed in the second reading of the state Duma on Friday, would force the NGOs to publish a report of their activities twice a year and carry out an annual financial audit.
The founders of the non-governmental organizations would face four-year jail sentences and/or fines of up to 300,000 rubles (USD 9,200) if they failed to comply with the law.
The legislation is expected to be reviewed by the Federation Council upper house on July 18.
The use of the term of "foreign agents" in the law was equivalent with "spying and treason" in the Soviet era.
Disputes over who has been funding Russian NGOs have increased after some controversial remarks made by the US ambassador to Russia Michael McFaul who said in April that the Obama administration would like to set up a 'civil society fund' in Russia.
Rejecting reports about US involvement in anti-government protests that hit Moscow during the country's presidential elections, McFaul said the US government funds no organization in Russia except independent NGOs.