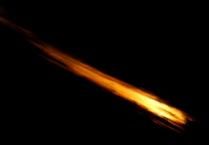 A bright fireball in the sky got Rick Beverly's attention at 1:30 a.m. Wednesday.
"I was headed north on Graham Road and was right about in front of my house when it happened," said the 1431 Graham Road, Lexington, man. "I was looking toward the east and noticed a big ball of fire fall from the sky. It was cruising."
Beverly said a red glow lit up a large section of woods behind his home. He thinks the fireball may have landed there.
Lt. Michael Vinson, of the Mansfield post of the Ohio Highway Patrol, said several agencies, including the Lexington Police Department, Troy Township Fire Department, the Richland County Sheriff's Office and the Air National Guard, responded.
"We were told that it may have been a plane crash," Vinson said. "But there was no evidence of any plane. We checked with Cleveland and Columbus FAA, and there were no flights in the area at the time."
The highway patrol orchestrated a fly-over to doublecheck the area that afternoon. Again, nothing was found.
Vinson said authorities believe the fireball may have been a meteor.
"It burned for about 45 minutes to an hour,"
Beverly said. The woods are about a quarter of a mile behind his home.
Beverly's father, Don, said his son pointed the strange phenomenon out to him.
"You could see the woods all lit up," he said. "When that first deputy arrived, we could see still the red embers and he took off for it, but it was like it suddenly just disappeared. There was no tree damage, not even a burnt spot.
"I'm thankful it wasn't a plane. I can tell you our adrenaline was flowing."