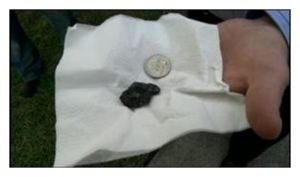 Sacramento - While many in the world are wondering where on Earth a falling satellite could hit, one California man had his own space mishap.
A meteorite slammed into his house!
"What happened?"
That was how Mike Gibson responded after he was rudely awakened the night of August 13.
"I heard a boom like you wouldn't believe hitting our house, middle of the night," said Gibson.
He ran outside and searched his roof with a flashlight, and that's when he saw what happened.
"A huge impact zone about 4 ½ -6 feet around was in my roof," he said.
But Gibson still didn't quite know what had happened.
The Perseid meteor shower was taking place, and Mike thought maybe, just maybe it was a meteorite that hit his home.
But he couldn't find proof.
That's when his son, Ben, joined in the search in the front yard plants.
"Grabbed some gloves, brought it over, started lifting it up, soon as he lifted it up, you're able to see, it's not a rock from Earth," he said. "We took it over to City College, my daughter did, to her astronomy professor and he tested it, and it has magnetism, that's a meteorite."
But with all the initial excitement came the harsh reality this meteorite did thousands of dollars in damage to the home, and could've done some serious harm.
"Going faster than a bullet, it's hitting at 20,000 miles an hour," he said.
Gibson is just happy that no one was injured, and now a month later, is still excited about his outer space visitor.