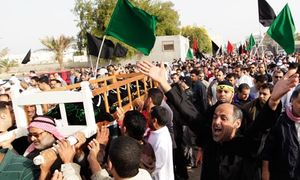 Bahrain - "Have you ever seen an island with no beaches?" The question posed by the young Bahraini taxi man standing among thousands of chanting anti-government protesters seemed at first to be a bit off the wall. But his explanation soon got to the heart of the grievances that have brought tens of thousands of Bahrainis on to the streets over the past week - protests which have seen at least seven civilians killed amid scenes of excessive violence by state security forces. Unconfirmed reports put the death toll much higher.
Many Bahrainis, like the young taxi man, have witnessed huge wealth sloshing around their diminutive country of less than 600,000 indigenous people (perhaps another 300,000 are expatriates, official figures are vague). But so little of that wealth - especially in the last seven years of high oil prices when Bahrain's national revenue tripled - has found its way into creating jobs and decent accommodation. More than 50,000 Bahraini families are estimated to be on waiting lists for homes. Some families have been waiting for over 20 years to be housed, with several generations sharing the one roof, in cramp conditions with poor sanitation.
All the while, these people have come to feel like strangers in their own land, with their squalid conditions in inner-city areas and villages being in sharp contrast to the mega shopping malls and multi-storey buildings that have sprung up to attract US and European investors, financiers, companies and rich tourists.
The Gulf island's oil wealth has been channeled into diversifying the economy away from dependence on oil and gas revenues into other sectors such as property development and international banking. The self-styled kingdom, which is sandwiched less than 30 kilometers on either side between the oil and gas giants of Saudi Arabia and Qatar, has leveraged its hydrocarbon wealth to earn a reputation as a finance and trade hub in the Middle East on a par with Dubai located further south along the Arabian Peninsula in the United Arab Emirates.
Read remainder of this article
here