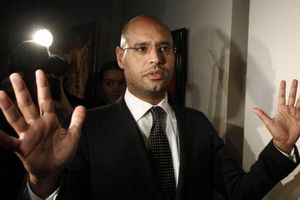 The son of Libyan ruler Muammar Gaddafi, Seif al-Islam, has warned against an ominous civil war in the North African country amidst Libya's popular uprising.
"Libya is at a crossroads. If we do not agree today on reforms, we will not be mourning 84 people, but thousands of deaths, and rivers of blood will run through Libya," Saif al-Islam Gaddafi said in a televised speech on Sunday.
He accused the factions of attempting to stir chaos in the country and offered dialog and the establishment of local governments in a bid to quell the nationwide uprising.
He also warned that the situation has become extremely dangerous in Libya, emphasizing that his country is not Tunisia or Egypt.
Saif al-Islam further pointed out that Libya has neared a crossroads to either a civil war or peace.
In other comments, he expressed the Libyan government's willingness to negotiate with 'legitimate' factions and parties to carry out reforms.
However, he warned that the government will fight until last drop of blood, saying that no dissidents or what he called thugs will be allowed to take over Libya.
Meanwhile, fresh reports say thousands of protesters have taken to the streets in defiance of Muammar Gaddafi's speech. They are said to be calling for the prosecution of Saif al-Islam and his father.
Saif al-Islam also denied the latest death toll figure from clashes in Libya's massive popular uprising against long-time ruler Muammar Gaddafi.
Latest figures show the death toll from clashes in Libya's massive popular uprising is nearing 300.
Reports have put the number of people killed in the country's second largest city, Benghazi, at more than 200 over the past days.
Residents in Benghazi reported that there was no electricity in parts of the city and tanks were stationed outside the city's main courthouse. Benghazi's airport is also reported closed.
The repression became bloodier on Sunday when security forces opened fire on thousands of people who had gathered to mourn for those killed on Saturday clashes in Benghazi.
The human rights group Amnesty International has urged the Libyan government to stop its crackdown on peaceful demonstrations.
Protesters have been demanding the ouster of the Libyan leader, who has been in power for over 40 years.