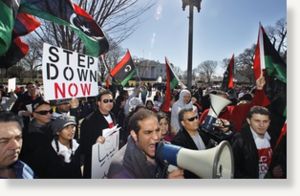 Tripoli - The son of Libya's strongman Moamer Kadhafi warned Monday the country would be destroyed by civil war if protests end his father's rule, in a speech broadcast as bursts of gunfire broke out in Tripoli.
Saif al-Islam Kadhafi offered reforms to end the violent uprising gripping the country, but he warned the protests were a foreign plot and would be crushed in a "bloodbath" if the government's offer was rejected.
The turbulence gripping the Arab world following the revolutions in Egypt and Tunisia also spread to Morocco, where thousands rallied for change across the country.
And Bahrain's Sunni Muslim ruling family came under increased pressure to open meaningful negotiations with the Shiite-led opposition, as protesters refused to be bowed and camped out in the capital Manama's Pearl Square.
The deadliest confrontations were in Libya, where Human Rights Watch said it feared a catastrophe with at least 173 people dead after a brutal government crackdown on demonstrators demanding an end to Kadhafi's 41-year iron rule.
Intense gunfire was heard in the heart of Tripoli and several quarters of the city Monday for the first time since the uprising began, but sounds of celebration also rang out to produce a confused picture.
"Libya is at a crossroads. If we do not agree today on reforms, we will not be mourning 84 people, but thousands of deaths, and rivers of blood will run through Libya," Kadhafi's son said in a speech that gave a lower death toll.
But Saif al-Islam Kadhafi's threats betrayed a note of desperation, and he suggested that the eastern city of Benghazi, an epicentre of the unprecedented protests, was now out of government control.
"At this moment there are tanks being driven by civilians in Benghazi," he said, dismissing the uprising as a foreign plot aimed at installing Islamist rule and insisting it would be ruthlessly crushed.
"We will take up arms... we will fight to the last bullet," he said. "We will destroy seditious elements.
"
If everybody is armed, it is civil war, we will kill each other
."
But despite the tough talk and finger-wagging, Kadhafi also made some concessions -- pledging a new constitution and new liberal laws.
Libya's unrest has spread from the flashpoint city of Benghazi, where demonstrations began on Tuesday, to the Mediterranean town of Misrata, just 200 kilometres (120 miles) from Tripoli.
Witnesses described security forces, backed by "African mercenaries," firing into crowds "without discrimination
," and a lawyer told AFP at least 200 people had been killed in the five days of unrest.
"The United States is gravely concerned with disturbing reports and images coming out of Libya," said State Department spokesman Philip Crowley.
"We are working to ascertain the facts, but we have received multiple credible reports that hundreds of people have been killed and injured in several days of unrest -- and the full extent of the death toll is unknown due to the lack of access of international media and human rights organizations."
France, Germany and the European Union weighed in with calls for the violence to stop immediately and
Libya's permanent representative to the Arab League, Abdel Moneim al-Honi, said he was quitting to "join the revolution."
Kadhafi, 68, who renounced terrorism and declared in 2003 that he was giving up the pursuit of weapons of mass destruction to try to improve ties with the West, has made no public comment since the deadly protests erupted.
The growing turmoil in Libya came as protesters set up more tents in the main square in Bahrain's capital, increasing the pressure on the Bahraini royal family to offer some real reforms.
An early morning raid on Thursday resulted in the deaths of four people and was followed by the army deploying in the square but protesters flocked back on Saturday after troops were withdrawn.
US Secretary of State Hillary Clinton urged restraint and reform in Washington's tiny Shiite-majority Gulf ally, where the US Fifth Fleet is based, calling violence against anti-regime protesters "absolutely unacceptable."
"Bahrain had started on some reform and we want to see them get back to that as quickly as possible," she told ABC's "This Week" programme.
Morocco became the latest in a string of Arab nations rocked by protest, as thousands gathered in several cities demanding political reform and limits on the powers of King Mohammed VI.
Between 3,000 and 4,000 people demonstrated in the capital Rabat, shouting: "The people want change" and denouncing corruption.
In Casablanca, the North African nation's biggest city, more than 4,000 people came out demanding: "Freedom, dignity, justice," an AFP correspondent reported.
A massive police deployment in Tehran prevented large-scale protests from erupting on Sunday although Iranian opposition websites reported stray clashes.
Tehran was the epicentre of deadly anti-government protests in 2009 after President Mahmoud Ahmadinejad's disputed re-election, and also saw clashes on Monday during a demonstration in which two people were killed.
Hundreds of students demonstrated on Sunday on the eighth straight day of anti-regime protests in the Yemeni capital Sanaa demanding the ouster of President Ali Abdullah Saleh.
Police shot dead a protester in the southern regional capital of Aden, medics and witnesses said, raising the death toll in the restive city to 11.
Back where it all started, in Tunisia, the interim government on Sunday asked Saudi Arabia to extradite deposed strongman Zine El Abidine Ben Ali as it faced a second day of protests demanding its own resignation.
The caretaker government also asked Saudi Arabia for information about Ben Ali's health following reports this week that he had fallen into a stress-induced coma and was being treated in a hospital in Jeddah.