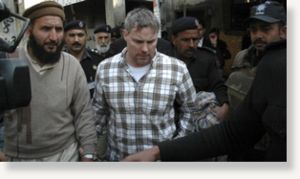 A Pakistani official says that a U.S. consulate employee held for the murder of two men is shielded by diplomatic immunity, according to Reuters.
"We will present all relevant laws and rules about immunity before the court and will plead that prima facie it is a case of diplomatic immunity. But it is for the court to decide," the official told Reuters Wednesday, on condition of anonymity.
Raymond Davis has been in custody since Jan. 27, saying he shot the two Pakistanis in Lahore in self-defense as they tried to rob him.
The shooting has caused protests in Pakistan, with many calling for him to be tried and not handed over to the U.S. The Taliban has threatened retaliation if he is handed back to the U.S.
Pakistan's former foreign minister said Wednesday that legal advisers told him Davis did not qualify for blanket diplomatic immunity.
Shah Mahmood Qureshi, who stepped down earlier this month during a Cabinet shake-up but retains influence, reiterated this stance after meeting with U.S. Sen. John Kerry -- an indication that the American politician may have a rocky time convincing Pakistan to free 36-year-old Raymond Davis.
It also signaled there have been internal divisions within Pakistan's government over how to handle a case that has severely strained relations with the United States. The partnership is considered key to ending the war in Afghanistan.
The U.S. says Davis is an embassy employee who shot two Pakistanis in self-defense as they tried to rob him Jan. 27, and that his detention is illegal under international agreements covering diplomats. Pakistani leaders -- fearful of stoking more outrage in a public already rife with anti-U.S. sentiment -- have said the matter is up to the courts to decide.
A Pakistani federal official told The Associated Press on Tuesday that the government would tell a court later this week that most of its legal experts had decided that Davis is immune from prosecution. Qureshi, however, told a news conference that if he is summoned, he will testify that his advisers informed him Davis may not have full immunity.
"God willing, I will side with the truth," he said. "I will never disappoint the nation."
Upon arriving in Pakistan late Tuesday, Kerry, a Democrat from Massachusetts, reached out to the government and the people, promising a U.S. criminal investigation into the shooting if Davis is released. He expressed regret over the loss of lives and acknowledged that the deaths need to be examined.
"It is customary in an incident like this for our government to conduct a criminal investigation. That is our law. And I can give you the full assurance of our government today that that will take place," Kerry told reporters in the eastern city of Lahore, where the shootings occurred.
Kerry met with Prime Minister Yousuf Raza Gilani after seeing Qureshi on Wednesday. He was to see President Asif Ali Zardari and army chief Gen. Ashfaq Parvez Kayani as well. His meeting with Qureshi indicated he believed the former foreign minister, a major figure in the ruling party, still has influence.
Ahead of the meeting with Kerry, the prime minister raised the possibility of another solution to the debacle: having the U.S. compensate the families of the dead Pakistanis in lieu of sending Davis to prison. Such a system, known as "qisas," is used in Islamic law and accepted in Pakistan. However, at least some of the dead men's relatives have rejected the idea.
The Associated Press contributed to this report.