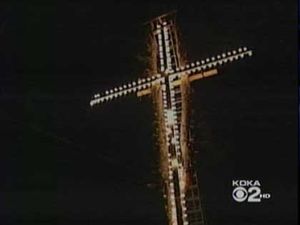 A Baldwin man is refusing to take down his lighted crosses.
Carl Behr said he isn't going down without a fight at a Baldwin Borough Council.
"They're not coming down," he said. "Somebody's gotta make a stand against these people and I'm here to make it."
He pleaded his case at the meeting after they issued an order on Monday for the 25-foot cross to come down from his property within five days.
"It's been about the Lord since the beginning and if anyone tries to make me remove them, they will only anger the Lord," Behr said.
The council says Behr didn't apply for a permit. Even if he does apply for one, he has to be in compliance with a new lighting ordinance council has been working on for the past four months.
Ironically, it passed Tuesday night.
"The lighting ordinance allows us to place restrictions on residential lighting that would be deemed a nuisance," Baldwin Borough Manager John Barrett said.
If Behr doesn't apply for a permit and doesn't take down the crosses, then he will face fines.