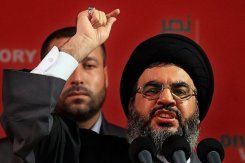 Hezbollah's chief on Wednesday urged his Shiite fighters to stand ready to take Galilee in any future Lebanon-Israel war and threatened Israelis "anytime, anywhere" to avenge a top operative's killing.
"I say to the fighters of the Islamic Resistance: Be ready. If a new war is imposed on Lebanon we may ask you to take Galilee, to free Galilee," Hassan Nasrallah said in a televised speech to mark his Shiite party's martyrs' day.
He vowed that the death of Imad Mughnieh, killed in a February 2008 car bombing in Damascus that Iranian-backed Hezbollah has blamed on Israel, would not be forgotten or go unpunished.
"I do not want to go into details. Suffice to say that our decision remains the same and will be executed, God willing, at the right time," he said to thunderous applause from hundreds of his supporters gathered in a stadium.
"To the Zionist generals, I say: Anywhere you go in the world, at any time, watch out, for the blood of Imad Mughnieh will not go to waste."
A month-long war between the Shiite militant group and Israel in 2006 destroyed much of Lebanon's infrastructure and killed more than 1,200 Lebanese, mainly civilians, and 160 Israelis, mainly soldiers.
Nasrallah's comments came a day after Israeli Defence Minister Ehud Barak warned that his army may have to re-enter Lebanon to ensure Hezbollah "remembers" the 2006 war.
"Even though it's quiet and deterrence exists -- Hezbollah remembers the heavy beating they suffered from us in 2006 -- but it is not forever, and you may be called to enter again," Barak said during a tour of the border region.
Source: Agence France-Presse