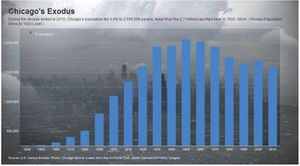 A larger-than-expected exodus over the past 10 years reduced the population of Chicago to a level not seen in nearly a century.
The U.S. Census Bureau reported Tuesday that during the decade ended in 2010, Chicago's population fell 6.9% to 2,695,598 people, fewer than the 2.7 million reported back in 1920.
After peaking at 3.62 million people in 1950, Chicago underwent a half century of decline that ended only when the 1990s boom years produced a small gain in the 2000 count. At that time, the city loudly celebrated its comeback.
But the recent recession accelerated a migration both to the metropolitan area's farthest suburbs and to the Southern U.S. Chicago nonetheless is expected to remain the nation's third-largest city, behind New York and Los Angeles and just ahead of Houston, for which final census numbers aren't in yet.
The exodus took a big chunk out of the city's black population in particular, shrinking it to 887,608 from 1,065,009, according to William Frey, a demographer at the Brookings Institution think tank in Washington.
"The black decline is really powering the city loss," Mr. Frey said, calling it "part of the great reverse migration to the South."
Blacks remain the most-populous race in Chicago, Mr. Frey said, while the number of whites fell during the decade by about 52,000 to just under 855,000 and Hispanics' ranks rose by about 25,000 to just below 780,000.
The population of Cook County, which is dominated by the city of Chicago, fell 3.4% during the decade. But it remained by far the state's most populous county, with about 5.2 million people.
The explosive growth of suburbs far outside Chicago produced huge gains in neighboring counties. Kane County grew by 27.5%, Will County by nearly 35% and Lake County by 9.2%, while DuPage grew a more modest 1.4%.
This population shift to traditionally conservative counties could alter the balance of power in both the state house and the Illinois congressional delegation.
The influx of residents to outlying areas could translate into additional Republican seats, though the arrival there of Chicagoans - particularly minorities - could make those regions more politically diverse. For instance, said University of New Hampshire demographer Kenneth Johnson, "DuPage County could become less Republican." Mr. Johnson said his analysis of census data showed that metropolitan Chicago grew 4% to 9,683,000 people.
Overall, the population of Illinois grew slightly, to 12.8 million from 12.4 million. Among its fast-growing cities, Aurora expanded by 38.4%, Naperville by 10.5% and Joliet by 38.8%. In something of a surprise, Rockford - currently beset by double-digit unemployment - actually grew by 1.8%. The growth of the industrial city, which was ravaged by the early 1980s recession, may reflect the city's efforts since then to diversify its manufacturing-based economy.