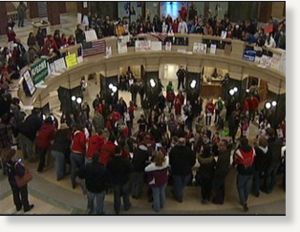 Senate Majority leader Scott Fitzgerald tells 27 News they need one Democrat to come back to vote on a bill that would take collective bargaining rights away from most public state employees.
Fitzgerald says he doesn't know where the Democrats are.
Fitzgerald says they've sent law enforcement to bring the Democrats back to the session.
They're issuing a "call of house."
Sergeant of Arms went door to door to find Democratic senators. 27 News went with Sergeant of Arms to every Democratic senators' office and no one is there.
Sen. Fitzgerald says only one senate Democrat is needed for a quorum to pass the budget repair bill.
Assembly Democrats are getting cheers from protesters as they prepare to debate the GOP bill.
Republicans control the Assembly, but hundreds of protesters jammed the hallways around the chamber anyway and shouted "Kill the Bill" as lawmakers filed to the floor for a roll call before breaking for party meetings.
Democrats showed up in orange T-shirts that proclaimed they support working families. After the roll call, Democrats on their way out exchanged high-fives with protesters, who cried out "thank you" as they walked by. The protesters unleashed venomous boos and screams at Republicans as they left the chamber.
It was uncertain when debate would actually begin.
Meanwhile, police have hand-cuffed a protester at the Capitol after he apparently tried to charge into the state Assembly. A legislative aide says he saw the man rush from the line of protesters and try to charge into the chamber. The man tripped and the police captured him.
The Capitol Square has been blocked off to traffic.
Stay with http://www.wkow.com and http://m.wkow.com for the latest on this developing story.
The Associated Press contributed to this report.
*******
MADISON (WKOW) --
No Democrats are present for the Senate roll call.
Seventeen Senators are present.
The budget repair bill is read on the Senate floor. The Senate then went into "informal session" to locate the missing Senators.
Assembly Democrats arrived wearing orange shirts.
*******
MADISON (WKOW) -- Democrats are refusing to go to the senate floor for the 11 a.m. session on Gov. Scott Walker's budget repair bill.
According to our sister station, WISN, Democratic Sen. Tim Cullen says they're under belief that the Senate needs 20 senators present to vote. There's only 19 Republicans.
Cullen says all senate Democrats have left Madison.