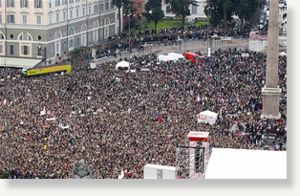 A million protesters, many of them women, took to the streets across Italy on Sunday calling on scandal hit Silvio Berlusconi to resign.
Marches were held in 200 towns and cities throughout the country as Italians voiced their anger and frustration at the 74-year-old Italian prime minister, who is facing charges of having under age sex with a prostitute and abuse of power.
The aim of the rally was for women to protest at how their dignity and the image of the country had been offended by the media tycoon's obsession with young girls.
Protests were held in Milan, Genoa, Naples and Bari but the largest was in Rome where thousands packed into the Piazza del Popolo which two months ago had been the scene of violent riots after Berlusconi won a confidence vote.
Demonstrators, including prostitutes and nuns, carried banners saying: "Berlusconi resign now" while another said "No prostitutes, no Madonnas, just women."
The protests came a week after demonstrators had also attempted to march on Mr Berlusconi's home at Arcore near Milan, where the alleged parties were held, in an attempt to throw knickers into his garden but police prevented them.
Among those who spoke at the Rome rally was lawyer Giulia Bongiorno, who is a member of a party that broke away from Mr Berlusconi's ruling coalition, who said: "I am not here to criticise Berlusconi's sex parties but I am here to criticise when they are used as a selection process.
"If you stay silent in situations like this then you become an accomplice."
Wiretaps leaked from more than 600 pages of the prosecution file suggest he surrounded himself at parties at his home with starlets and other women hoping to use their looks to gain positions in politics or within his Mediaset TV empire.
Organisers called the protest
If Not Now, When?
which is also the title of a famous novel by the Italian award winning writer Primo Levi and which tells the story a group of Jewish partisans behind German lines during World War II as they seek to continue their fight against the occupier and survive.
Iaia Caputo, of the organising committee, said: "The Ruby case has revealed a system of political selection based on an exchange of sex and power.
"If we accept this as normal, we risk prejudicing the free choice of women."
For almost a month now billionaire media tycoon Mr Berlusconi has been in the spotlight over claims of stripping nurses and policewomen at his infamous "bunga bunga" parties.
Mr Berlusconi has insisted that the parties he held at his mansion at Arcore near Milan were nothing more than convivial social events.
Preliminary hearings judge Cristina Di Censo is not expected to announce before Monday or Tuesday whether she has granted the prosecution request to send the case to trial and if approved it could start as early as April.
Mr Berlusconi was said to have watched the rally on TV but made no public comment.
Mariastella Gelmini, the education minister, said: "It's just a small protest from trendy radical chics," while another minister Daniele Santanche said: "It's a shame there is so much hatred towards one man."