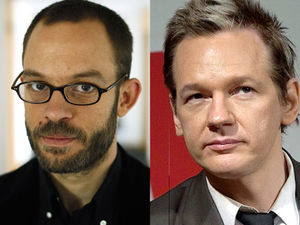 WikiLeaks says it will take legal action against a former key member of the website who left after a bitter fallout with founder Julian Assange and went on to set up a rival whistle-blowing platform.
Kristinn Hrafnsson, a spokesman for WikiLeaks, confirmed that the organisation intends to sue Daniel Domscheit-Berg, a German transparency campaigner who - until his departure last September - was one of the few public faces of the secretive whistle-blowing platform.
Mr. Domscheit-Berg, who is launching his own whistle-blowing websites OpenLeaks, has written a warts and all memoir of his time at WikiLeaks in which he accuses Mr Assange of being an irresponsible and autocratic leader who once threatened to kill him.
"Inside WikiLeaks", which went on sale in Germany today and will be published in Britain next week, is one of just a number of recent memoirs from people who have worked with Mr Assange that portray the WikiLeaks founder in a poor light.
In some of the most damaging passages, Mr Domscheit-Berg describes his former colleague as an intensely paranoid man who began travelling with bodyguards, ruled over his followers as an "emperor" and had a particular fondness for young women, money and power.
His memoir also alleges that WikiLeaks has been crippled from receiving any new leaks after a disgruntled programmer who developed the submissions section of the website unplugged a key component which guaranteed anonymity to those wishing to leak information to the site.
Together with Mr Domscheit-Berg, the programmer also helped lift 3,500 files off the WikiLeaks servers before their departure.
The revelations are further confirmation of serious logistical problems, first reported by The Independent in October, faced by WikiLeaks following a series of high-profile defections by programmers and volunteers that disagreed with Mr Assange's leadership style.
In an excerpt of the book that was itself leaked to the publishing site Cryptome, Mr Domscheit-Berg claims that he and the programmer - who is known only as "The Architect" - disconnected the submissions section because they believed Mr Assange could not be trusted to keep sources secret. "Children shouldn't play with guns," Mr Domscheit-Berg writes to explain his decision. "That was our argument for removing the submissions platform from Julian's control."
He then goes on to question why WikiLeaks' submission arm is still not online. "I don't know exactly why, as of the end of 2010, three months after our departure, the system is still not really back up on its feet," he says. "It shows that the current team is overtaxed and perhaps, to some extent at least, just not up to the job
The memoir has provoked a furious response from Mr Hrafnsson, an Icelandic journalist who took over as WikiLeaks chief spokesman after Mr Domscheit-Berg's departure. In a statement released today he said lawyers would take legal action against OpenLeaks for sabotage.
"The sabotage and concern over motives led to an overhaul of the entire submission system, an ongoing project that is not being expedited due to its complex nature and the organisation's need to focus its resources on publication and defense," he said.
Mr Hrafnsson also questioned how influential Mr Domscheit-Berg's role was within WikiLeaks, claiming his memoir is based on "limited information or malicious falsifications."
This afternoon Mr Domscheit-Berg released his own statement ridiculing the threat of legal action, adding that The Architect had simply withdrawn his permission for WikiLeaks to continue using his coding.
The ongoing spat between the two whistle-blowing websites came as Mr Assange appeared in court to continue his fight against being extradited to Sweden where he is wanted for questioning over sexual assault allegations.
Meanwhile lawyers in the 39-year-old's home town of Melbourne have revealed how Mr Assange, as a budding computer hacker in his early twenties, once assisted local investigators to build two child pornography cases.
His counsel Grace Morgan, told the Victorian County Court: "His role was limited to providing technical advice and support, to assist in the prosecution of persons suspected of publishing and distributing child pornography on the internet."