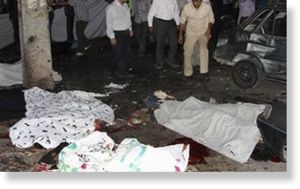 Attack strikes mosque in southeastern city of Chabahar as Shi'ites began mourning Ashoura, marking the death of prophet Mohammad's grandson
.
Two suicide bombers blew themselves up near a mosque in southeastern Iran on Wednesday, killing dozens of people at a Shiite mourning ceremony, state media reported.
The attack took place outside the Imam Hussein Mosque in the port city of Chahbahar, near the border with Pakistan, the official IRNA news agency reported, quoting lawmaker Mohammad Yaghoub Jedgal.
The bombing appeared to target a group or worshippers preparing to mark Ashoura, which commemorates the seventh century death of the Prophet Muhammad's grandson Hussein, one of Shiite Islam's most beloved saints.
The area of Iran is home to an armed Sunni militant group, Jundallah, or Soldiers of God, which has waged sporadic attacks to fight alleged discrimination against the area's Sunni minority in overwhelmingly Shiite Iran.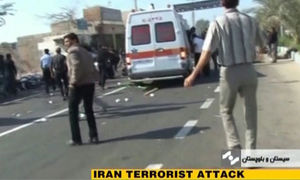 One of the attackers detonated a bomb outside the mosque and the other struck from inside a crowd of worshippers, state TV reported.
Deputy Interior Minister Ali Abdollahi confirmed the attack but said details will be released later Wednesday.
In July, twin blasts in the same province, Sistan-Baluchestan, killed at least 27 people. Jundallah said that attack was revenge for the execution of its leader, Abdulmalik Rigi, in June.
Iranian officials claim Jundallah, which has operated from bases in Pakistan, receives support from Western powers, including the United States. Washington denies any links to the group, and in November the State Department added Jundallah to a US list of foreign terrorist organizations.
Drug traffickers and smugglers also are active along the barren frontier area of Iran, Pakistan and Afghanistan and have launched attacks on security forces.
Source: The Associated Press