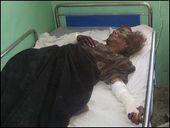 US air strikes in Afghanistan on Tuesday killed dozens of civilians including women and children, officials from the Red Cross have said.
Afghan officials in the western province of Farah told the BBC
as many as 100 civilians might have died.
The civilians were said to have been hit while sheltering from fighting.
A US military team has been sent to Farah to investigate and Afghan President Hamid Karzai has ordered an Afghan inquiry.
Mr Karzai is in the US for talks with President Barack Obama and Pakistani President Asif Ali Zardari.
Civilian deaths will be high on the agenda at the White House for Mr Karzai, who has repeatedly urged Western forces in Afghanistan to reduce the number of civilian casualties.
The BBC's Martin Patience, in Kabul, says the Washington talks could be overshadowed if the Red Cross report of dozens of civilian deaths is confirmed.
'Sheltering'
International Committee of the Red Cross observers who visited the site of the air strikes saw houses destroyed and dozens of dead bodies, including women and children
, a spokeswoman said.
"We can absolutely confirm there were civilian casualties," Jessica Barry said.
"It seemed
they were trying to shelter in houses when they were hit."
The governor of Farah province, Rohul Amin, backed the Red Cross verdict that civilians had died but he could not confirm numbers.
The US military said coalition troops had been called to assist Afghan forces as they attempted to fight off an insurgent attack.
A spokeswoman, Capt Elizabeth Mathias, said she was "extremely concerned" by the reports of high casualties.
"I actually sent an investigation team out to that region this morning and I expect them to be on the ground a little bit later this afternoon, and hopefully have some more information for us at that time," she said.
Tuesday's violence broke out after more than 100 Taleban militants attacked a police checkpoint in Farah, in the far west of Afghanistan, killing three police, Afghan officials say.
They later entered a village where they beheaded three people accused of being government collaborators.
US air strikes targeted militants thought to be sheltering in houses and at least 25 Taleban fighters are reported to have died.
But a growing number of reports from the area suggest civilians had also been sheltering in the buildings hit.
Local officials initially told our correspondent in Kabul they had seen the bodies of about 20 women and children in two trucks.
But officials and police sources in Farah later estimated the number of dead at around 100.
Crisis in Pakistan
Mr Obama will hold bilateral talks with Mr Karzai and Mr Zardari, before all three hold a joint meeting.
Mr Zardari faces a growing crisis in his own country amid a new outbreak of fighting between the army and Taleban rebels in the Swat Valley region.
Thousands of residents there are reported to be fleeing their homes as a peace deal between the government and Taleban militants appears on the verge of collapse.
Fighting flared overnight in Mingora, the main town in Swat, and continued into Wednesday, with reports of helicopter gunships bombarding militant positions.
The government has warned that 500,000 people could try to leave
if the peace deal formally breaks down, although the BBC's Mark Dummett, in Islamabad, says the army has not yet launched the offensive most are now expecting.
On Tuesday the US envoy to Afghanistan and Pakistan, Richard Holbrooke, told a congressional hearing in Washington that Pakistan must do more to combat the Taleban.