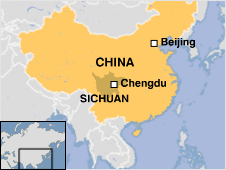 ©BBC News
Chinese President Hu Jintao has called for "all-out" efforts to rescue victims of an earthquake measuring 7.8 that has hit south-west China, say reports.
The quake struck 57 miles (92km) north-west of Sichuan's provincial capital, Chengdu, at 1428 (0628 GMT).
China's state-run Xinhua news agency said Premier Wen Jiabao was travelling to the area and troops were being sent to help with disaster relief efforts.
The extent of the damage is not clear and there are no casualty reports yet.
Chengdu has a population of more than 10 million people. State television said the quake had not caused major damage to the city or to the nearby Three Gorges Dam.
But workers were evacuated from swaying buildings in several cities.
Tremors were felt as far afield as Beijing, the Thai capital, Bangkok, and Hanoi in Vietnam.
Workers in the Chinese capital, Beijing - about 930 miles from Chengdu - said buildings shook for about two minutes.
In the city's financial district, people poured out of buildings, but there were no visible signs of damage.
'Continuous shaking'
China's tallest building, the Jinmao Tower in Shanghai, was also evacuated after the earthquake, Reuters news agency said.
In Chengdu, residents poured on to the streets.
"We felt continuous shaking for about two or three minutes. All the people in our office are rushing downstairs," an office worker in Chengdu told Reuters.
Telephone lines to the affected areas were jammed, reports said. The government was preparing to send rescue teams to the epicentre in Wenchuan County, state TV said.
Earthquakes are common in China - in March a 7.2-magnitude quake struck in the western Xinjiang province.
The area where Monday's earthquake struck lies on the eastern edge of the Tibetan plateau and is thinly-populated.