A tropical seabird has appeared in the UK for the first time after being blown thousands of miles off course from its home in the Caribbean.
Experts believe the male magnificent frigatebird was pushed towards Britain by disorientating hurricane activity.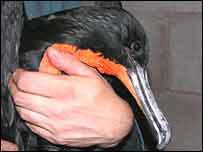 ©BBC News
The rare bird is now recovering at Chester Zoo.
It is now being cared for at Chester Zoo after being found exhausted at a farm in Whitchurch, Shropshire.
"It is an amazing find here in the UK," said Mike Jordan the zoo's curator of birds and mammals.
"And it is an incredible coincidence that the bird should find its way to us here in Chester Zoo which is a major force in bird conservation," he added.
He said it was ironic that some of its zoo keepers were on tropical islands helping with the breeding of threatened birds.
Mr Jordan said the birds are known as the pirates of the ocean as they hound other birds for their fish but do not normally land on the sea.