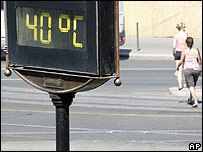 ©AP
Public thermometer in Budapest, 15 July 07
Up to 500 people have died in the past week from a heatwave in Hungary, a top health official has said.
Anna Paldy, deputy director of the National Institute of Environmental Health, told the BBC that the figure included 230 deaths in central Hungary.
The deaths - from 15 to 22 July - were caused by heatstroke, cardiovascular problems and other illnesses aggravated by the heat, she said.
Some 30 people have also died in the heatwave in neighbouring Romania.
Ms Paldy told the BBC News website that the death rate from heat in Hungary was the highest in recent years.
The daily mean temperature in the past week had reached 30C, she said.
In the southern city of Kiskunhalas, the temperature reached a record high of 41.9C.
The data came from hospitals and doctors in Budapest and the county of Pest, which the researchers then extrapolated for the whole country. Most of the deaths were among elderly people.
Regional woes
South-Eastern Europe is reeling from the hot weather, which has been blamed for widespread forest fires and has also caused economic hardship.
In Serbia, the agriculture ministry says 30% of the country's annual harvest has been destroyed because of the heat, with the wheat, soya and vegetable crops worst hit.
Parts of northern Europe have meanwhile seen vast floods and heavy rainfall - sparking fears that climate change may be to blame for the extreme weather.
Unusually high temperatures of more than 40C (104F) have been recorded in several parts of southern and eastern Europe.
On Monday, temperatures of 45C (113F) were recorded in Bulgaria - the hottest since records began, officials said.
Hundreds of forest fires have been reported in Greece, where two pilots died on Monday after a water-bombing aircraft they were flying over a forest fire crashed.
Another such aircraft flying over a forest fire in Italy crashed on Monday, killing three people.
In the Former Yugoslav Republic of Macedonia, thousands of firefighters, soldiers and local people battled throughout Monday night to stop a forest fire from reaching the country's second-largest city, Bitola.

Why this summer has seen such extreme weather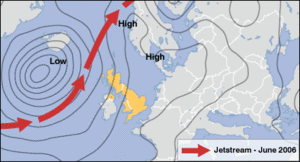 ©Met Office
Pressure chart: 29/6/06: In a 'normal' summer, the Atlantic jetstream directs areas of low pressure, which bring cloud and rain, to the north of the UK. High pressure systems over Europe and the Atlantic bring warm, settled conditions.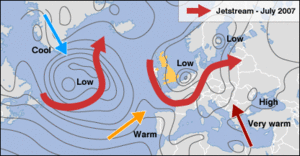 ©Met Office
Pressure chart: 24/07/07: This summer, the jetstream is flowing further south allowing low pressure systems to sweep straight over the centre of Britain. It is also pulling in warmer air from the sub-tropics and Africa which is sweeping over south-eastern Europe.