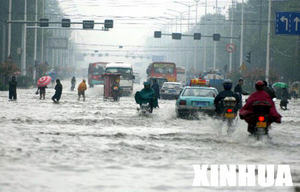 ©Xinhua
Vehicles run through flooded water in a street in Xiangfan, a city in central China's Hubei Province
Zheng Xiaoling trekked in the knee-deep water, careful not to fall and be washed into a swollen river 500 meters away.
On Friday, the worst rainstorm to attack her home county of Jingshan in central China's Hubei Province since records began interrupted power and water supplies for six hours and inundated at least 140 homes in her community, including her own.
"I left home at 7:00 a.m. and when I came back two hours later, the flood water was more than a meter deep in the house and even our bed and fridge were floating," said the miserable 35-year-old housewife who has just been laid off from a local building material supplier.
Her home was furnished only six months ago and the family spent more than 50,000 yuan on new furniture and electrical appliances. "The flood destroyed everything -- even the junkmen don't want them now."
Even worse, her family had to move out to live with their relatives. "God knows for how long."
The torrential rain that started to hit Jingshan county on Friday forced 17,104 people to evacuate, injured 23 and left one person missing, the county's drought prevention and flood control office said.
"The rain started at midnight and when I got up at 7:00 a.m., I found the water outside was so deep that I couldn't open the door," said Zhang Yinxiu, 55. "I called my daughter and her husband. Together, we forced it open to escape."
By 10:00 a.m., the water was chest deep.
Her daughter Chen Haixia, a 30-year-old teacher at Jingshan Elementary School, joined the school authorities' rescue mission to make life rafts with school desks and tyres that transported children and elderly people to safety.
Nearly every street in the county seat was a river with long lines of broken down vehicles. People used basins and buckets to bail water out of their sodden homes, offices and roadside stores.
In the countryside, hectares and hectares of cropland were inundated, houses collapsed and roads were blocked.
Jingshan County had already suffered tremendously from four devastating rainstorms between June 18 and July 11, with nearly 30,000 hectares of cropland ruined, 4,000 houses knocked down and 580 km of road damaged, its government said.
In eastern Anhui Province, 28 people have died and nearly half a million have been relocated in the past two weeks. Water levels of the trunk Huaihe River are still above high-water warning marks.
China Meteorological Administration has forecast heavy rain in upcoming three days in the Huaihe River valley and the middle and lower reaches of Yangtze River, the country's longest river.
The rainy season coupled with fierce flood waters has taken a heavy toll in central and southern China.
In northwestern Xinjiang Uygur Autonomous Region, heavy rain beginning on Tuesday destroyed 15 km of road and bridges in Tekes County in the upper reaches of the swollen Ili River in Kazak Autonomous Prefecture of Ili.
By Saturday, the flood had stranded 180 tourists for three days at a local holiday resort, but the county government said food and other supplies are sufficient and there is no immediate danger.
More than 300 herders' families have also been stranded in the flood, waiting for local roads to be repaired.
But heavy rain hampered a fleet of forklifts until the flood receded on Friday afternoon and road works could begin, the county government said.
Many Beijingers also woke up to long-expected rain in the small hours on Saturday. The city's meteorological bureau has forecast one or two bouts of torrential rain in July and August, but the total rainfall is estimated at 270 mm to 340 mm, less than the historical average of 355.8 mm, said Sun Jisong, chief forecaster of the bureau.
By Thursday, 403 Chinese had died, 105 were missing and 3.17 million people had been relocated because of the floods, the State Flood Control and Drought Relief Headquarters said.
It said millions of people across 24 provinces, autonomous regions and municipalities had been lashed by torrential rains and floods.