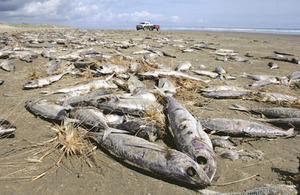 ©The Northland Age
There has been no clear explanation as to what caused hundreds of fish to wash up on 90 Mile Beach at Hukatere a day after nearly one thousand fishing enthusiasts brought a close to the biggest competition in New Zealand.
Hundreds of dead fish washed up on 90 Mile Beach on Sunday turning the golden sands into a sea of decaying flesh and scales.
As nearly one thousand fishermen walked off the beach on Saturday afternoon at the end of the Snapper Classic, the biggest surfcasting fishing competition in New Zealand, there were many complaints about the numbers caught over the five day event. However, it is believed that hours after the competition was officially brought to a close hundred of dead fish washed up on the beach at Hukatere.
"They were everywhere; as far as the eye could see. There must have been about a thousand of them," said Brian McDonald who was driving along the beach on Sunday at 3pm when he made the shock discovery.
" You couldn't walk on the sand because there were so many of them. I didn't think it was caused by a trawler and a lot of the fish were really small. There were tour buses coming back from Cape Reinga stopping so the passengers could take pictures," Mr Mc Donald added.
Ministry of Fisheries personnel who were at the Snapper Classic Fishing Competition said that there were reports of bait flowing straight out of the water and there were also claims of a large wave which had allegedly carried them in.
However, MP Shane Jones has dismissed these claims as unrealistic and believes a full investigation must be carried out.
The large majority of the fish that were washed up were jack mackerel and kahawai, two fish which are not traditionally found so close to shore.
District compliance manager for MAF, Ian Bright, said that jack mackerel is not a commercial target species in this area and felt that it was more likely to have been a big wave. But revealed that an investigation would be carried out by his officers to try and get to the bottom of the mystery.
"We will be looking searchingly at the Ministry of Fisheries to exhaustively investigate this issue," Shane Jones MP said.
"It is too early to point the finger, but it is fair to say that acts like this deepens suspicion of the fishing industry. Jack mackerel is not a species of fish that usually gets as close to the shore and as for kahawai, they are agile fish and I think it would take a Tsunami wave to bring them in. If it is as the Ministry of Fisheries suggest at this early stage that it has been a wave then I want further verification. The people of the north do not want to see large quantities of food being left to rot on the beach."
Mr Jones revealed that there has been occasions in the past when a commercial fishing boat has suffered gear failure and they have lot their nets, bring their entire catch to shore. However, if the fish have been abandoned that will be a must more serious issues as jack mackerel is a quota fish and commercial operators are well aware of the penalties of abusing their quota.
"Fisheries should meet with the local Iwi to ensure that there are arrangements made for the disposal of the fish. Given that MAF had 10-15 people chasing a suspected illegal operation related to smoked mullet this is not a lot of ask.
"But whatever this is, it is wanton waste," he added.