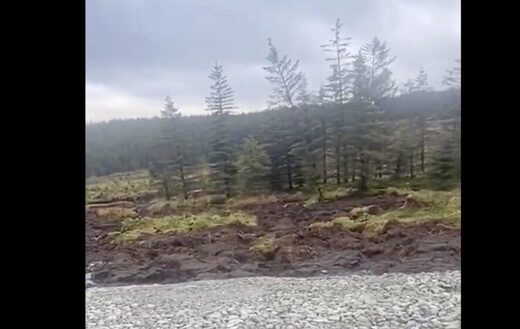 THE Ulster Angling Federation (UAF) has called for the development of a Co Donegal windfarm be suspended pending an investigation into a huge landslide close to the facility.
Dramatic footage of trees, peat and other bog material being swept away near Meenbog Windfarm close to Ballybofey in Donegal and east Tyrone appeared on social media over the weekend.
Nearby Corgary Road was closed on the Donegal side of the border last night at the Meenablagh Road junction over "concerns about a potential landslide", with motorists asked to seek an alternative route.
Thousands of tonnes of material was swept away on Friday close to the windfarm which is owned by Invis Energy.
The landslide has had a major impact on rivers on both sides of the border. UAF chairman, Gary Houston said large amounts of peat, Sitka Spruce and other material had been swept into the Mourne Beg River which is a tributary of the River Derg and part of the Foyle system.