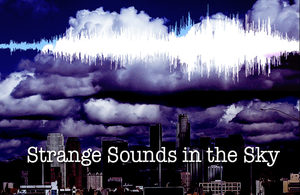 From as far back as 2008, video recordings of strange and eerie sounds have been appearing on the internet. They occasionally garner a mention in the media but are generally ignored or explained away as a 'hoax', the result of "secret government weapons", the "activation of HAARP" or "HAARP-like technologies", the by-product of "top secret construction work on underground bases", or "aliens", etc., etc.
Variously described as groaning, metallic, clashing, clanging and trumpet-like, these (usually loud and pronounced) noises
seem
to come from the sky but generally reverberate in such a way that listeners are unable to make out from which general direction they come.
These 'strange sky sounds' have been observed all over the globe and first really caught the public's attention in 2011, when a spate of events sparked such widespread interest that significant effort was made to discredit the phenomenon through the dissemination of fake recordings.
Some, certainly, are hoaxes. That's human nature; we mock that which we do not understand. But the sheer proliferation of 'strange sound events' in recent years, the similarities (with minor differences) between them, and the diversity of the locations they've been recorded in (sometimes more than once), speaks to there being a global reality to this phenomenon. In the course of tracking and reporting these events on SOTT, we've noticed that they tend to come in waves; there can be 'silence' for some time, then 4 or 5 'strange sounds' events occur in disparate locations (perhaps within the same region or continent) in the time span of a week or fortnight. And, as best we can tell, this trend seems to be increasing.
Here is our 'best of' strange sounds summary video, comprising some events from around the world in 2016. Please excuse the occasional foul language - muting or otherwise distorting it would have interfered with the strange sounds themselves. Besides, hearing them curse and swear, you get a real sense of the observers' astonishment!