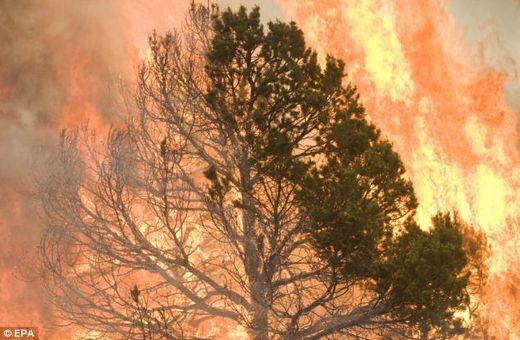 he devastating wildfire sweeping through Arizona has become the worst ever in the state's history.
The Wallow Fire has burned more than 600 square miles, 408,887 acres, and is now six per cent contained.
At least 10,000 people have been displaced and more than 30 homes have been destroyed so far. Authorities said full containment is nowhere in sight, and power lines that supply much of West Texas and Southern New Mexico with electricity are also in jeopardy.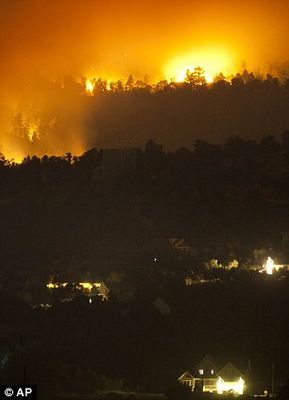 Yesterday an absence of strong winds allowed firefighters to set preventive burns and cut fire breaks. The winds, however, are expected to pick up and pose more challenges to fire fighting crews.
Last night the massive fire did cross the border into western New Mexico.
More than 5,000 residences are threatened by the massive fire, officials said.
Arizona cut $250,000 from the 2011 fire budget under the assumption that it would be a 'quiet' year for fires. This is now the third wild fire in Arizona this year.
Next year the budget calls for $300,000 in cuts from the department.
Full evacuations were still in place for Eagar, Springerville, Sunrise, Greer, Blue River, Alpine, Nutrioso and many subdivisions. Officials also say 24 outbuildings in Greer were destroyed along with one vehicle.
On Thursday, more than 3,000 firefighters got a break from nature when high winds driving the flames lost strength.