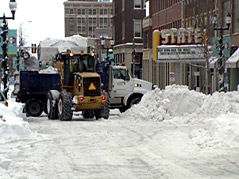 SIOUX FALLS, S.D. (AP) -- weather system that crossed southern South Dakota set snowfall records in Rapid City and Sioux Falls. The National Weather Service says 3.1 inches of snow fell at the Rapid City airport on Tuesday, breaking the 2008 record for the date of 1 inch.
Sioux Falls got 5.7 inches of snow, breaking that city's record for the date of 1.5 inches set in 1959. Some parts of southern South Dakota got even higher amounts of snow, but it was expected to start melting on Wednesday.
The weather service forecast called for high temperatures from the mid-30s to the mid-40s.