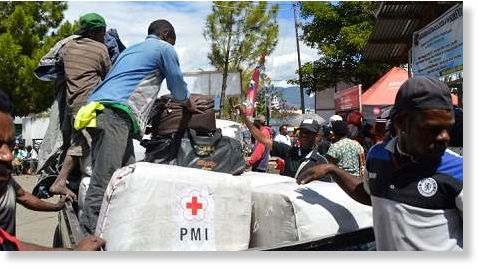 In recent weeks, thousands of people in the Indonesian Province of Papua have been suffering the effects of a severe cold wave that has left remote communities in need of food and clean water.
The cold wave first struck at the beginning of July, hitting the district of Lanny Jaya particularly hard.
The sub-districts of Kuyawage, West Wanu and Goa Baliem were struck by hailstorms accompanied by freezing temperatures which plunged to minus two degrees Celsius.
"Water is an urgent need for the communities in Lanny Jaya," said the Executive Chairman of the Indonesian Red Cross Society, Ginandjar Kartasasmita. Local water sources are reportedly frozen or have been contaminated and supplies of bottled water are unavailable in local markets. In response, the Red Cross has so far distributed 500 gallons of drinking water, blankets and instant food to help 1
82,000 people who are in need of humanitarian assistance.
All aid items have been decided following a rapid assessment carried out by the Red Cross in coordination with local authorities which have distributed five tonnes of rice to Kuyawage and deployed two doctors and five nurses.
The average temperature in Lanny Jaya ranges between 17.8 degrees to 32 degrees and such an extreme cold wave hasn't been witnessed since 1989.
So far, nine people have died, half of whom were children. Hundreds of people are suffering from health problems while thousands are threatened with food shortages. The hailstorms caused severe damage to farmland and killed a large number of livestock.
"Our community has suffered as the hailstorms destroyed yam crops and people have nothing to harvest. It also killed 168 pigs which are our main livestock,"
said Lenius Muria Lanny, head of Kuyawage sub-district.
Delivering aid to the region is a major challenge. Affected villages are nestled high in the mountains and to reach them, Red Cross volunteers walked for three days with supplies as the unstable weather has hampered efforts to send materials by small aircraft which is normally the only form of transportation that can be relied upon.