Extreme Temperatures
Nature News
YouTube
Sun, 29 Nov 2020 14:41 UTC
Comment:
Images from the city of Norilsk on
social media, November 29
: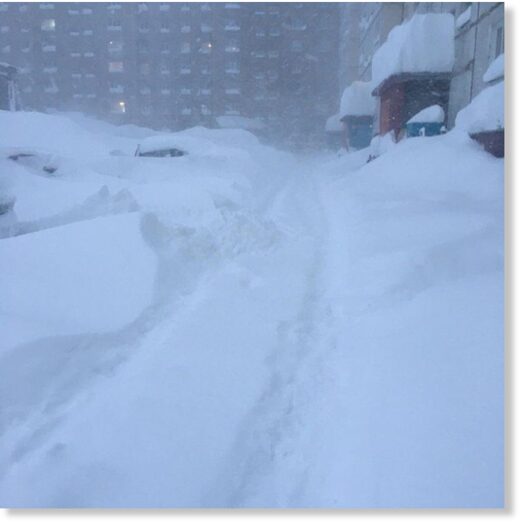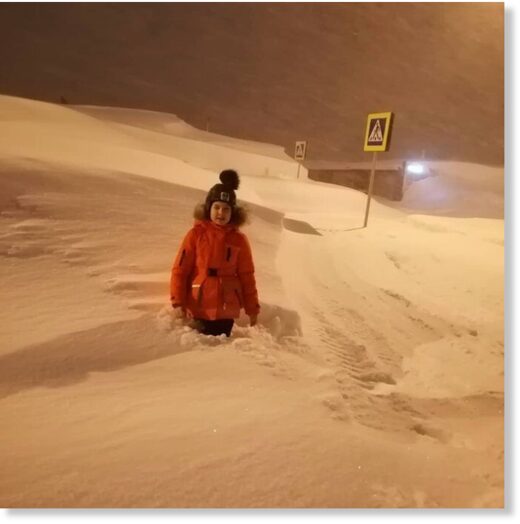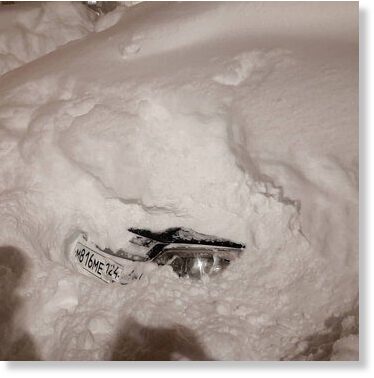 ---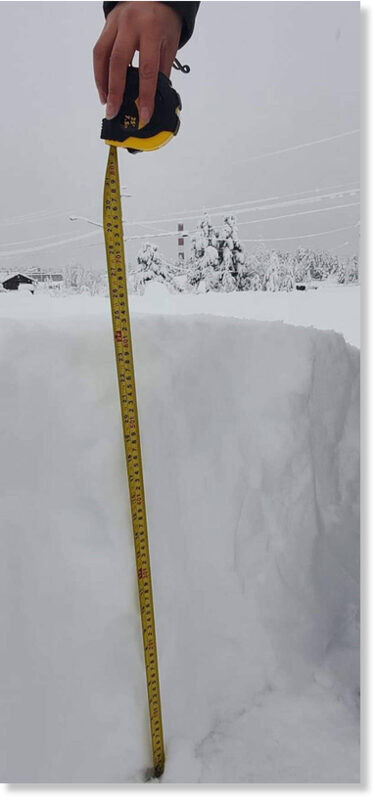 Graham West of Ulkatcho First Nation captures the scene on video
More than 60 cm of snow has fallen in parts of the Chilcotin since a snowfall warning went into effect Thursday, Nov. 26.
On Friday afternoon Graham West, a member of Ulkatcho First Nation near Anahim Lake, forwarded a photograph to the Tribune depicting a measuring tape with a snow level of 64 cm or two feet and one inch.
"Just got word the RCMP are on a snowmoblie with a nurse delivering meds to clients within the community," he said.
Earlier in the afternoon West said he hoped to get up on his roof to shovel because the snow was getting heavier.
---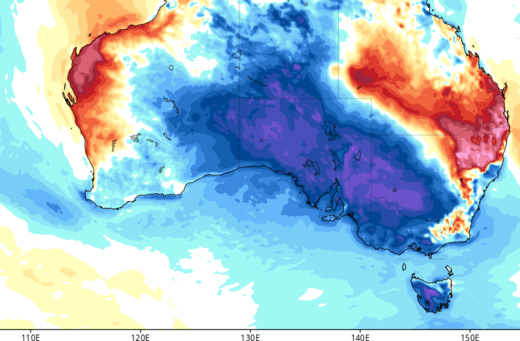 While the mainstream media reports "Australians are set to sizzle through the most dangerous heatwave of the year so far," what they also fail to mention is that 1) such bursts of heat are typical for this time of year, 2) the conditions will last fewer than three days, and 3) they will be closely followed by record-cold Antarctic air and even rare December snow.
---
Jackson Groves
YouTube
Thu, 26 Nov 2020 12:26 UTC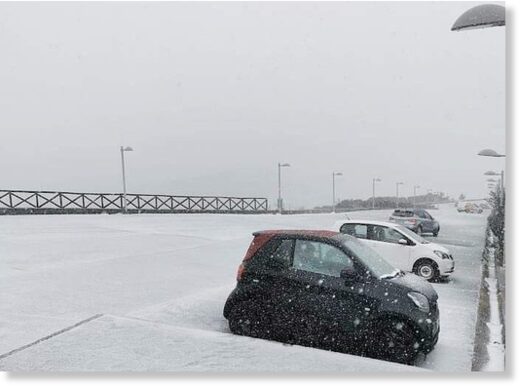 With snow reported the day before, we woke at 430am and drove as far up the mountain as possible. The roads were too icy to continue driving so we began hiking 10 kilometers below the summit of Pico do Arieiro a couple of hours before sunrise.
In a crazy snowstorm, with frozen fingers and toes we reached the summit to see lightning strike the tower!
Can't believe it was snowing on Madeira!
---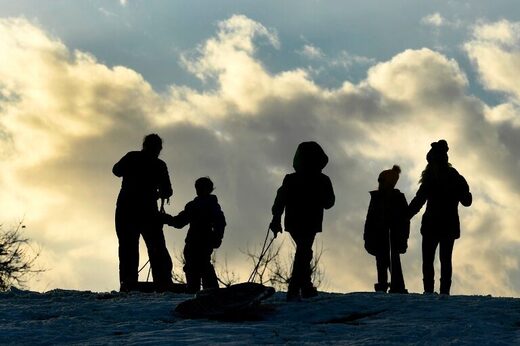 Colorado's latest snow storm is wrapping up, leaving the Interstate 25 urban corridor with a winter wonderland, a mess on the roads and a new spot in the history books.
Denver International Airport tallied 5 inches of snow. This is a record daily snowfall for Nov. 24, breaking the old record of 4 inches set in 1946.
Even more notably, it was the first daily November snow record to fall in the city since 1994. Snow totals across the rest of the metro area generally range from 3 to 6 inches, with heavier amounts up to 10 inches in the western suburbs.
This was a rare November snowstorm in the Denver area beyond the record-breaking amount. Another rarity lies within the heavy and wet nature of the snow.
---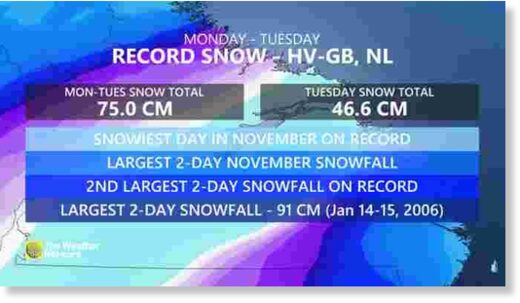 Tuesday's historic blizzard in Labrador shut down everything from roads and flights to provincial government offices and schools.
A record-setting blizzard shut down parts of Labrador, forcing the closures of roads, provincial government offices and flights Tuesday, as well as schools in Happy Valley-Goose Bay, North West River and the regional College of the North Atlantic campus.
The potent low had already slammed Ontario and Quebec with a blast of widespread, heavy snow last weekend, and also brought strong winds and heavy rains to Newfoundland through Tuesday.
---
This is in reference to an article I posted earlier today, that
Saturn and Jupiter are about to do something not seen since the year 1226.
Jupiter and Saturn about to do something not seen since the year 1226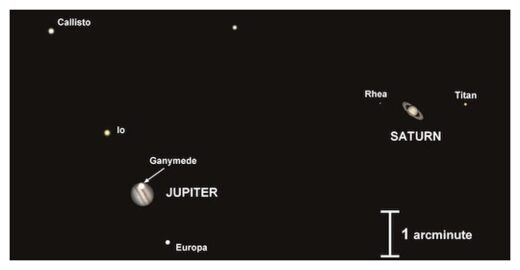 Below is an excerpt from
Not by Fire but by Ice
concerning the solar retrograde cycle.
---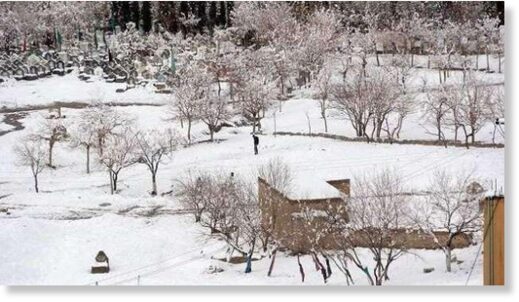 Tourists stranded as Thandiani, Nathiagali, Ayubia receive one-foot snow
Continuous heavy snowfall in the hilly areas of Hazara division on Monday brought the mercury below the freezing point, however, the main Muree Road remained open for traffic but
roads to and from Koza Gali, Khanspur Road, Bakot, Nathia Gali Road, Boi Sawar Gali Road, were closed.
In the second spell of snowfall in the current winter season, Thandiani, Nathiagali and Ayubia received up to one foot of snow during the last 24 hours where a large number of tourists were stranded because of the slippery road conditions.
Snow-clearing machinery of the Galyat Development Authority (GDA), the Khyber-Pakhtunkhwa Highways Authority (KPHA) and the works department has been deployed at various places of Galyat to meet any eventuality.
---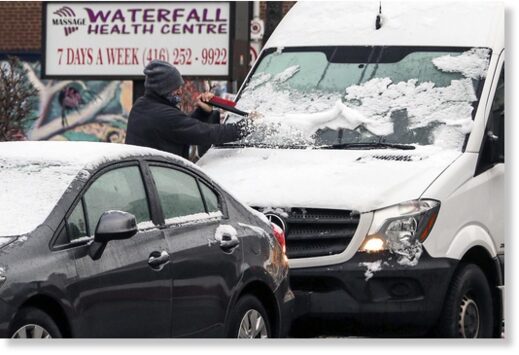 Toronto crushed a snowfall record for Nov. 22 with Sunday's winter storm, but all that snow should be gone by the end of the week with the arrival of warmer temperatures.
Environment Canada had issued a snowfall warning, and the weather didn't disappoint.
According to the weather agency, 19.4 centimetres of snow fell at Pearson airport, breaking the previous Nov. 22 record of 7.6 cm in 2007.
The last time a similarly significant snowfall occurred around this time of the year was nearly 70 years ago on Nov. 6, 1951, when the city was hit with 13.2 centimetres of snow.
---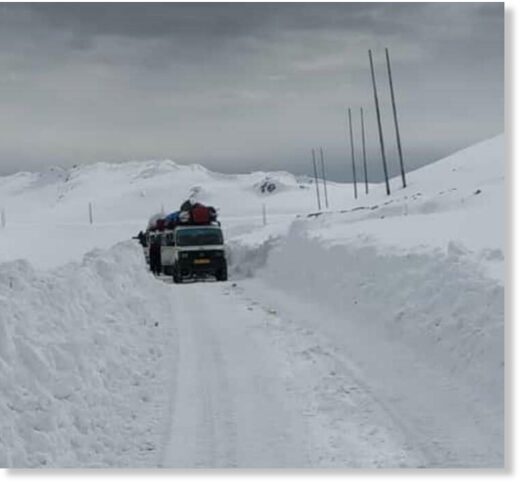 The 86 km long Gurez Bandipora road closed for traffic, after Razdan top received 12 inches fresh snow which led to the slippery condition of the road.
Officals told that Boder Roads organization is on job to clear snow on Gurez bandipora road, adding that Gurez recived 5 inches snow at Dawar and adjoining areas, how ever mechanical engineering department has deployed two snow cates to clear interior roads.
Sub divisional magistrate,Gurez Mudasir Ahmad told KNS that they have dumped food and supplies and the DG set fuel, which will suffice till May while medicines have also been stocked up in the Gurez Valley.
---