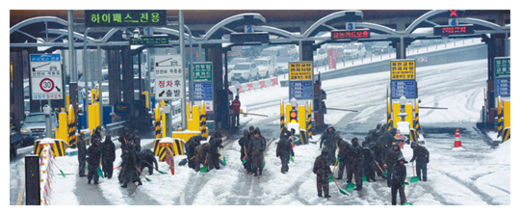 Yesterday's rush hour was a nightmare for a 47-year-old civil servant surnamed Roh who commutes from Gimhae to Changwon, South Gyeongsang, every day.
He left home at 6:15 a.m. and reached the Changwon Tunnel that connects the two cities in 10 minutes, but soon had to turn his car around as the tunnel was closed due to snow.
Roh then passed through Jangyu and Dongmasan IC (interchange) and finally arrived at his office in Changwon at 9:40 a.m.
It usually takes only 25 minutes if he takes the tunnel route, but it took 3 hours and 25 minutes.
On his way to the office, many vehicles were waiting for assistance after being damaged in car accidents due to the slippery roads.
"It doesn't snow much in Gimhae," Roh told the JoongAng Ilbo. "Not many drivers have tire chains. It was terrible to drive because many roads are icy due to the early morning snow."