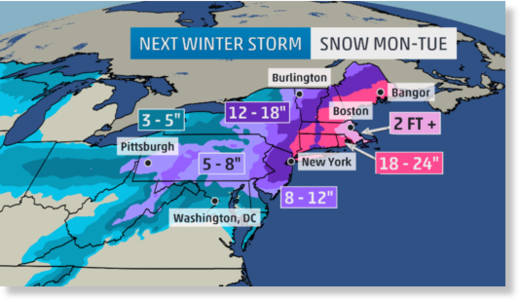 New England is braced for "paralyzing, crippling blizzard-like conditions" as the second East Coast winter storm in as many days threatens to dump up to two feet of snow in some areas, forecasters said.
Boston and New York City will see high winds and possibly "significant" snow accumulations as an Alberta clipper moves through the Ohio Valley Sunday and off the Mid-Atlantic coast Monday before intensifying over Long Island and New England through Wednesday.
"This is going to be a big one, historic,
" Weather Channel coordinating meteorologist Tom Moore said. "
There could be paralyzing, crippling blizzard conditions. They're going to be talking about this one for a while."
Philadelphia, Baltimore and Washington D.C. were already set for a messy Monday morning commute with up to three inches of snow expected overnight Sunday.
The warning came after millions of Americans across the Northeast
awoke Saturday to some of the most significant snowfall so far this winter,
leaving New York, New Jersey and Pennsylvania in a sloppy mess of snow and sleet.
A Nor'easter delivered more than five inches of snow in New York City, while residents of northern New York were digging out of as much as nine inches,
NBC New York reported.
New Jersey State Police reported 126 traffic accidents, and a parking garage in Secaucus collapsed under the weight of the snow and a plow, police said. The plow driver suffered minor injuries in the accident, which created a hole that was 50 feet by 50 feet, NBC New York said.
Moore said New England was "going to take a bit hit, for sure" in Monday's storm, but it was uncertain exactly how much snow would fall at the western end of the system, over New York. "It could be minor snowfall, it could be a real dumping of between 10 and 20 inches, it just really isn't clear at the moment."
He said the storm was going to intensify "into a monster" as it moved northeastwards during Monday.
"The combination of the slow movement and the snowfall could create blizzard-like or blizzard conditions," he said.
Michael Palmer @MPalmerTWC

Classic set-up for memorable, potentially historic blizzard SE New England Mon/Tue. 2 ft. of #snow poss for Boston.

10:59 AM - 25 Jan 2015