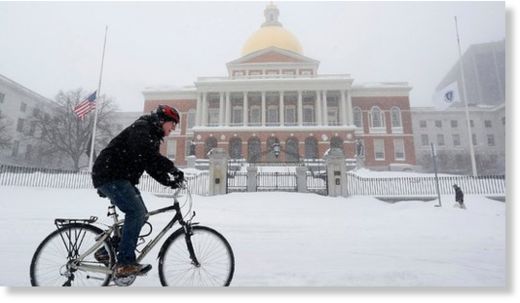 The first major storm of the winter blasted across eastern New England on Tuesday, unleashing whiteout conditions driven by gale-force winds that pelted faces like small icy daggers and made cars disappear under igloo-like formations.
The storm may not have lived up to its billing in New York City, but it more than delivered in New England. It cut off the island of Nantucket, where almost all 12,000 year-round residents lost power and telephone service, and it flooded the Atlantic coastal town of Scituate, where a car floated downtown.
As snow continued to swirl Tuesday afternoon, forecasters were still expecting the predicted two to three feet. In Shrewsbury, about 40 miles west of Boston, 31 inches had fallen by 10 a.m.; Worcester, nearby, had received 26 inches and was on track to break records.
The good news for much of New England was that the snow was light and fluffy, not the wet, heavy flakes that coagulate on tree limbs and bring down power lines. Still, by midday, tens of thousands of homes in Massachusetts were without power, most of them on Cape Cod.
Coastal communities were bracing for the next high tide starting around 4 p.m. Tuesday.
There was no power on Nantucket - including at the fire station - where hurricane-force winds up to 78 miles an hour raked the island and led to the cancellation of ferry service to the mainland. "It will get cold tonight," the police chief, William Pittman said. "We have to get people situated before dark if they want to be evacuated."
That job was complicated by the near total loss of communication systems. "Some of our landlines are down, cell service is spotty, the Internet and TV are down, and the only thing we have is our public safety radio,"
Chief Pittman said in an interview over that radio.
Whiteout conditions made flights to the island impossible. "Nobody will be coming now," the police chief said. "We're pretty much assured there won't be any assistance at least until tomorrow." He estimated that the island had enough food and fuel to last for a week without new supplies.
The town of Scituate, about 30 miles south of Boston on the Atlantic coast, began receiving requests for evacuations from residents at 3:45 a.m. as high tide neared. Officials pre-emptively shut off power to 200 homes in flood-prone areas in an attempt to prevent fires, the Scituate town administrator, Patricia Vinchesi, said.
"We experienced two serious fires in 2010, where firefighters had to put out fires and rescue people in eight feet of water," Ms. Vinchesi said. "So we shut off power to 200 homes in the areas that are always flooded because, if there was a problem, we could not get people there."
The police in Marshfield, Mass., just south of Scituate, said high tide had washed away a major section of a sea wall and caused structural damage to a home.
At a briefing after noon, Gov. Charlie Baker of Massachusetts said the region had been hit with two storms - a moderate, manageable one in the west and an intense one in the east, where another 10 inches might fall by the time the storm tapers off early Wednesday morning. He lifted the travel ban in four western counties but kept it in place for the east and all of Interstate 90, the Massachusetts Turnpike.
States of emergency were in effect across New England
, with Maine the last to declare one, early Tuesday morning. "The amount of snow and the high winds, along with blowing and drifting snow, makes this storm dangerous for many Mainers," Gov. Paul R. LePage said in making the declaration.
Travel bans have not been imposed in Maine or New Hampshire, though speeds on the Maine Turnpike were lowered to 45 miles an hour.
A travel ban was in effect in Rhode Island, and most public schools in the region were shut.
Peter Gaynor, the head of the Rhode Island Department of Emergency Management, told CNN that the travel ban had allowed the snowplows to keep up with clearing the roads without having to deal with other vehicles.
Raging winds were the worst aspect of the storm, with gusts raking across Nantucket at up to 78 miles an hour.
The Boston subway system and commuter rail lines were shut, as was Amtrak's Northeast Corridor service. Airports were closed in Boston and Portland, Me.
Massachusetts state officials used electronic signs on highways to speak to Boston drivers in their native language: "Wicked Big Storm Coming. Pahk Ya Cah!"
In the category of hell-freezes-over, Roger Carroll of
The Telegraph
of Nashua, in New Hampshire, sent out this Tweet: "Here's how you know storm is serious: NH is closing liquor stores on Tuesday. #nhpolitics #hellfreezesover"
Gov. Maggie Hassan of New Hampshire told
New England Cable News
that she had closed state government, which she said was an "unusual event" in hardy New Hampshire, because snow was coming down at four inches an hour and visibility was dangerously low. The governor did not order a travel ban, she said, because she did not want law enforcement officials distracted by having to enforce it. By and large, she said, residents were cooperating and staying at home.
Temperatures were much colder than originally forecast,
with Boston at 14 degrees and the winds making the air feel like minus 2. But the cold was what made the snow lighter; if it had been warmer, the snow would have been wetter and power losses would have been more extensive.
Snow was forecast to fall through Tuesday night and not taper off until early Wednesday.
"It's just kind of all white and gray," Genevieve Hunt, 55, of South Dartmouth, Mass., a town on the state's south coast, said Monday night.
Referring to wind gusts of up to 60 miles an hour, she added: "It'll settle down once in a while, but it's kind of scary when you go to the window and you can't see what's going on outside."
In Providence, nine inches of snow had fallen by 6 a.m., and wind gusts of 43 miles per hour were creating low visibility.

Schools and businesses were closed across the state, and many people whose jobs required them to be at work had been hunkered down at their workplaces since Monday night. Dr. Margaret Van Bree, the president of Rhode Island Hospital and the Hasbro Children's Hospital, said nurses, doctors, cooks and other workers had slept in the hospital.
"In some conference areas, we have blowup beds, we have cots," Dr. Van Bree said. Because many patients had canceled elective procedures, she said, some workers would sleep "in some of the recovery beds or on stretchers."
Dr. Van Bree said she had an air mattress in her office and had brought three changes of clothes to work on Monday.
And Alexandra Weiss, 22, a college student hostess in the restaurant at the Providence Biltmore hotel, said she had been given a free hotel room so she could work at the restaurant on Monday night and do a double shift on Tuesday.
"School's canceled tomorrow," said Ms. Weiss, who was happy to earn extra money for her spring break. "I've never stayed in the Biltmore."
In midcoast Maine, the snow started in the early morning. Mainers woke up to strong north winds, heavy snow and single-digit temperatures.
Schools and town offices were closed from Kittery, on the New Hampshire border, to Eastport, on the Canadian border.
For those watching for records, the snowfall level to beat in Boston was 27.5 inches, set 12 years ago over Presidents' Day weekend. It was the largest snowfall here in a 24-hour period.
Michael Kistner, meteorologist for the National Weather Service in Gray, Me., said that snow was falling at a rate of three to four inches an hour in southeastern New Hampshire and would continue, "probably through the next four to six hours."
"It's the jackpot area," Mr. Kistner said.