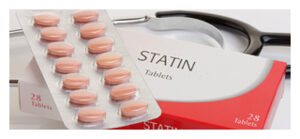 Is there any life left in the cholesterol hypothesis (a.k.a. the lipid hypothesis)? Is there anything left for serious scientists to cling to or is time for its mouldering corpse to end up on the trash heap of medical history, alongside lobotomy, bloodletting and the theory of the four humors? I was asked this question by a reader of this blog recently, and as it happens, a
systematic review was recently published in Evidence Based Medicine
(my favorite medical journal, mainly because it is edited by
the brilliant Dr. Carl Heneghan
) that definitively answers this question, so I thought it would be interesting to go through what the evidence says together.
As many readers will be aware, the cholesterol hypothesis is the idea that cardiovascular disease is caused by high levels of cholesterol in the blood stream. The hypothesis harks back to the early part of the twentieth century, when a Russian researcher named Nikolai Anitschkow fed a cholesterol rich diet to rabbits and found that they developed atherosclerosis (hardening of the arteries, the process which in the long run leads to cardiovascular disease). Of course, rabbits and humans are very different species, with very different dietary preferences. Rabbits, being herbivores, normally have very little cholesterol in their diets, while humans, being omnivores, generally consume quite a bit of cholesterol. Regardless, the data was suggestive, and led to the hypothesis being formulated.
In the 1940's and 1950's an American researcher named Ancel Keys carried out a number of studies which supposedly showed a correlation between cholesterol intake and heart disease in humans. The most famous of these was the "Seven Countries Study", which was an observational study carried out in, as the name implies, seven different countries, and which found that people in countries with a high intake of saturated fat had high blood levels of cholesterol, and were much more likely to develop heart disease than people in countries with a low intake of saturated fat. This lead to the hypothesis that saturated fat intake leads to high blood cholesterol levels which leads to atherosclerosis which leads to cardiovascular disease and premature death.
As we've discussed before, observational studies cannot draw any conclusions about causation
, they can only show correlation. And there is also a question why these seven specific countries were chosen (the reader will be aware that there are in fact closer to two hundred countries) - they certainly weren't chosen at random. If the populations in a study aren't chosen at random, that creates a significant risk of cherry picking of data (and makes it impossible for the researchers carrying out a study to refute that accusation).
In spite of these limitations, the cholesterol hypothesis became heavily hyped, leading to official dietary recommendations around the world, which are still very much unchanged, that recommend low intakes of saturated fat and cholesterol, and of foods rich in these substances, such as red meat.