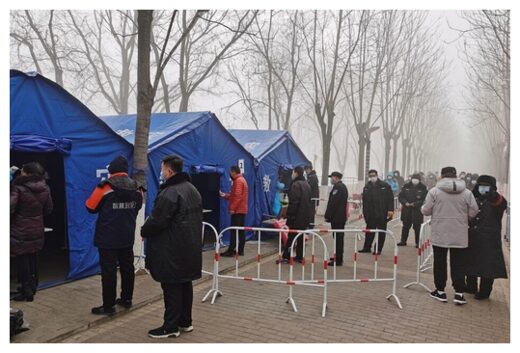 More than a million Beijing residents undergoing coronavirus testing amid a fresh outbreak have been administered anal swabs, which are considered more accurate
and raise the chances of detecting COVID-19, said a
Chinese
disease specialist.
The key districts of Daxing and Dongcheng began a mass testing drive on Friday after a nine-year-old boy tested positive for the
more virulent strain of the virus, first discovered in London and the southeast of England
last month.
Health authorities in the Chinese capital said they were aiming to screen more than two million people in 48 hours. Among them, around 1.6 million inhabitants in Daxing were to be given antibody tests, as well as throat, nasal and rectal nucleic acid swabs.
Anal swabs have been in use since last year, including in the major port city of Shanghai, but the method is so far reserved for individuals in potential COVID-19 hotspots, according to an infectious disease expert quoted by China's state broadcaster CCTV on Saturday.
"Since the start of the coronavirus outbreak, we've tested for the virus using mainly throat swabs. Its characteristics are convenience and speed, so it's suitable for large-scale testing," said Beijing You'an Hospital's Li Tongzeng. "Nasal swabs are more accurate than throat swabs, but nasal swabs can be uncomfortable.
"He added: "In some asymptomatic cases or in individuals with mild symptoms, they tend to recover from the illness very quickly. It's possible that there will be no trace of the virus in their throat after three to five days.
"What we've found is that in some infected patients, the coronavirus survives for a longer period of time in their digestive tract or excrement than in their respiratory tract."