Earth Changes
Nature News
YouTube
Mon, 12 Apr 2021 10:28 UTC
---
Mary Colurso
AL.com
Sat, 10 Apr 2021 09:47 UTC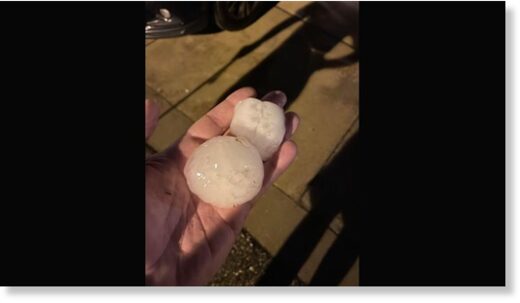 As
severe storms moved across Alabama
early Saturday morning, huge hail fell in at least one coastal city.
People in Orange Beach have posted social media photos of hail that appears as large as your fist -- or a baseball -- along with images of shattered windshields and vehicles damaged by hail.
Multiple severe thunderstorm warnings were issued overnight by the National Weather Service for parts of south Alabama as a strong line of storms moved across the area. The weather service in Mobile got numerous reports of golf ball to baseball size hail in Baldwin County between 3 and 4 a.m.
---
Disasters News
YouTube
Mon, 12 Apr 2021 12:40 UTC
---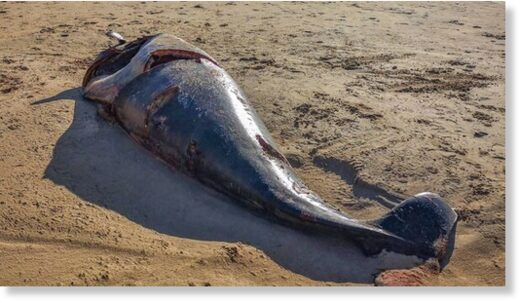 Locals have been left shocked after three whales were washed up on one of the country's most scenic beaches.
Tra Mór in Dunfanaghy, Co Donegal was named in the top ten Irish beaches by the
Lonely Planet
guide this week.
However, walkers were left stunned at the weekend when they came across the whales washed up on the beach.
The three large carcasses are believed to be that of two adult and one juvenile Cuvier's beaked whales The three whales measure around 6ft, 10ft and 10ft, and two of them have scarring around their bodies.
---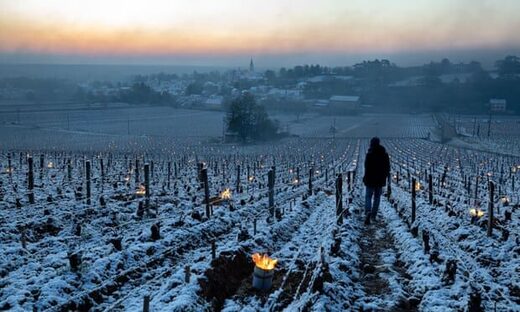 Winemakers across France are counting the cost of several nights of frost this week that threaten to decimate grape harvests in some of the country's best-known and prestigious wine-producing regions.
The government is readying an emergency rescue package after rare freezing temperatures that could cause some of the worst damage in decades to crops and vines.
From Bordeaux to Burgundy and the Rhône Valley to Champagne, winemakers were out in their fields on Friday inspecting the destruction.
"It breaks like glass because there's no water inside," said Dominique Guignard, a winemaker in the Graves area near Bordeaux, as he rubbed the first shoots on his vines.
"It's completely dried out, there's no life inside," said Guignard, who heads a group of producers in Graves, which is known for its robust red wine.
Many industry experts say the damage from temperatures of up to -6C may be the worst in decades, partly because the frost followed unseasonably warm weather last week.
---
The Telegraph
YouTube
Sun, 11 Apr 2021 14:11 UTC
Massive power outages struck the Caribbean island of St Vincent before dawn on Sunday, as officials recorded more explosive activity at a long-dormant volcano that launched into a series of eruptions.
After remaining quiet for nearly 42 years, La Soufriere rumbled back into life Friday, blanketing the island in ash and permeating the air with the stench of sulphur. The eruptions prompted thousands to flee for safety, with around 16,000 people living in areas under evacuation orders.
Read more on this story:
https://www.telegraph.co.uk/news/2021...
---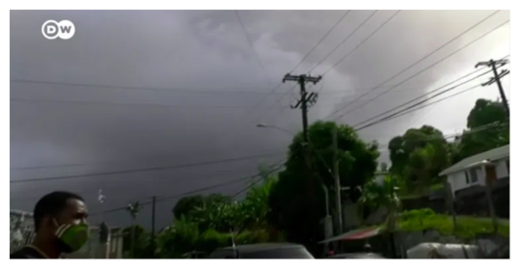 The volcano on the Caribbean Island of St Vincent has erupted. Cruise liners and Ferries are rushing to the scene to evacuate people caught by the eruption -
but people are not allowed to board the cruise liners until they receive a Covid vaccination.
Caribbean's St Vincent island volcano erupts after 16,000 people evacuated

Posted Yesterday at 1:37am, updated Yesterday at 2:03am

An explosive eruption of the La Soufriere volcano in the Caribbean has rocked the island of St Vincent following mandatory evacuation orders from the local government.

More than 16,000 residents had been evacuated as volcanic activity increased ahead of the eruption, which took place on Friday morning local time.

Evacuees have been given temporary homes on cruise ships and in safer parts of the island.

...

Evacuees told to get vaccinated

The new eruption followed mandatory evacuation orders issued on Thursday for people who lived near the volcano.

The pandemic could hamper evacuation efforts.

Prime Minister Ralph Gonsalves said in a press conference that people had to be vaccinated if they went aboard a cruise ship or were granted temporary refuge on another island.

He said two Royal Caribbean cruise ships were expected to arrive by Friday and a third one in the coming days, as well as two Carnival cruise ships by Friday.

Source: - Caribbean's St Vincent island volcano erupts after 16,000 people evacuated
I don't blame the rescuers - they are doing the right thing, putting their very expensive ships in danger to rescue people. Volcanic ash could easily cause millions of dollars worth of damage just by landing on the ships, or by getting sucked into the engine air intakes. So they deserve recognition for their courage and compassion.
What I blame is the
world's obsession with Covid.
---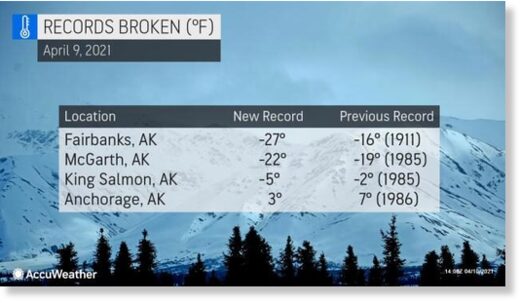 Low temperature records fell throughout parts of Alaska this past week, and the same intense cold has began to infiltrate the Pacific Northwest of the United States.
The historic cold blast settling into Alaska at the end of the week sent temperatures plummeting far below zero, so cold, in fact, as to topple several long-standing records.
Fairbanks dropped to a staggering 27 degrees below zero on Friday, smashing the century-old record of 16 below zero from 1911.

Cities like McGrath and King Salmon also dropped below zero, and set new records.

Even in cities like Anchorage, where the temperature didn't drop below zero, the mercury in thermometers did fall just enough to still break the daily record from 1986.
---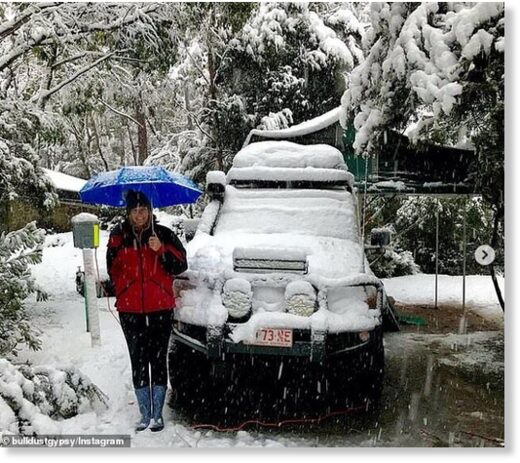 Millions of Australians are shivering through the coldest day of the year as an icy front bringing an 'Antarctic blast' sweeps across the country's southeast.
The cold front moved in over Tasmania, Victoria and South Australia on Saturday, bringing freezing conditions,

low-level snow,

heavy swells and the first frost of the year.
Melbourne on Sunday woke to its coldest morning since October 20 last year according to the Bureau of Meteorology, with the mercury dipping to 8.3C.
---
Manuel Petitat
YouTube
Fri, 09 Apr 2021 17:46 UTC
---