Earth Changes
Alpha
YouTube
Sat, 13 Mar 2021 13:11 UTC
---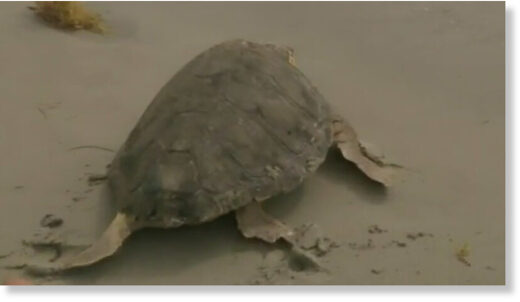 Sea turtles along the Florida coast from Jacksonville to Brevard are falling sick and wildlife experts are working hard to find out why.
The turtles — primarily Green sea turtles — have been coming ashore from the ocean and lagoons in increasing numbers over the past few weeks. They're being taken to the Brevard Zoo and to specialty turtle rehab centers around Florida, according to Shanon Gann with the Brevard Zoo Sea Turtle Healing Center.
"There's not one specific ailment. Most of them are stranding from the ocean and presenting with lethargy and low glucose," she said Wednesday. "It's not boat strikes or a parasite."
---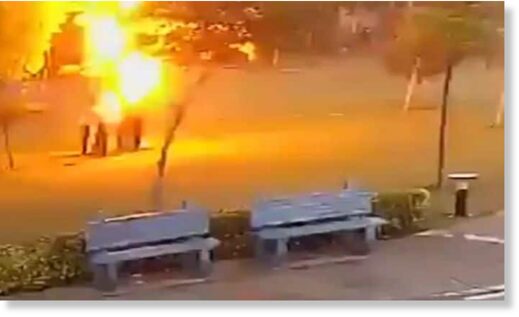 CCTV footage of the incident, which went viral, showed the four men falling to the ground moments after the lightning strike.
One of the four men, who were injured when lightning struck a tree under which they were taking shelter from the rain in Gurugram's sector 82, died late Friday. CCTV footage of the incident, which went viral, showed the four men falling to the ground moments after the lightning strike.
The incident happened in the residential township Vatika India Next and the four men were attached with its horticulture department. All four of them were rushed to the hospital where the condition of Ram Prasad (38) was reported to be critical. He later succumbed to his injuries. The rest, Shiv Dutt (43), Lali (32), and Anil Kumar (32), were stable and recovering.
---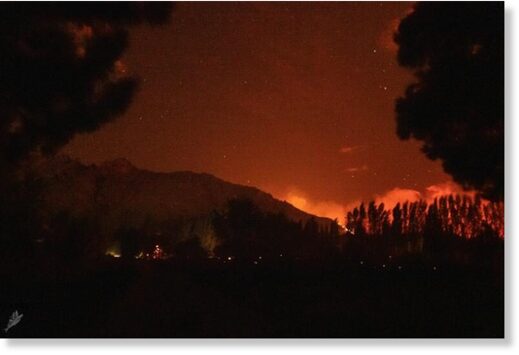 At least seven people were injured and 15 more missing on Wednesday as forest fires ripped through Patagonia, official sources said.
Some 200 people had to be evacuated and around 100 homes were damaged by fire
in an area of forests and lakes popular with tourists close to the Andes mountain range. Locations affected by the flames include Lago Puelo, El Bolsón, El Maitén, Epuyén, Futaleufú and El Hoyo.
"I'm going to file a criminal complaint because it was an intentional fire," said Environment Minister Juan Cabandié at a press conference.
President Alberto Fernández wrote on Twitter that the national government had "sent two helicopters, three fire hydrant planes, 12 fire engines, support vehicles and 62" firefighters to tackle the blaze.
---
---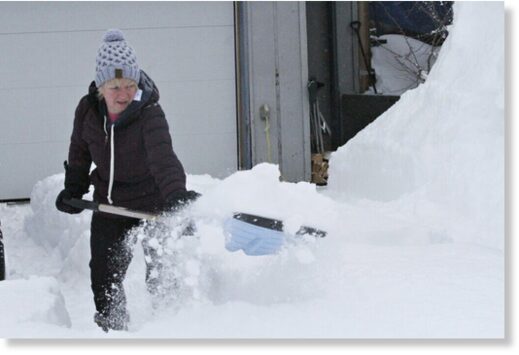 Residents in some parts of Alaska's largest city woke Thursday morning to a surprise:
up to 18 new inches of snow fell overnight.
The snowfall in Anchorage caused few headaches in a city accustomed to sizeable snowfalls. (March 11)
Video Transcript
JUDI WESTFALL: It was a little bit of a shock. It was snowing when I got home last night, but I didn't expect it to be over a foot of snow today. So a little bit of a shocker for us.
---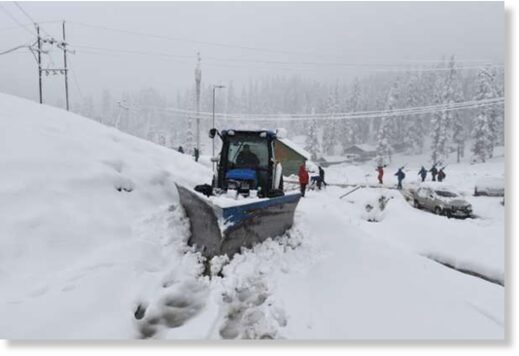 The upper reaches of Kashmir are receiving fresh snowfall, while rains lash many other parts of the region. The Indian Meteorological Department has predicted erratic weather conditions in Jammu and Kashmir till March 15. Tourist resort of Gulmarg has received
more than 13 inches of snow during the night.
Snowfall was recorded in several north Kashmir towns including Kupwara and Baramulla. Srinagar city and south Kashmir witnessed heavy snowfall through the night, bringing down the temperature.
---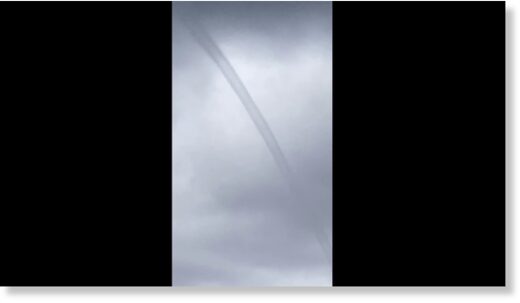 A waterspout was seen over the sea near the New South Wales town of Woolgoolga on March 11. Footage posted to Facebook by Shane Panton showed the weather phenomenon approaching the coastline.
The New South Wales Bureau of Meteorology said the area was likely to experience heavy rain and gusty winds on March 11.
Credit: Shane Panton via Storyful
---
Richard Davies
Floodlist
Fri, 12 Mar 2021 11:46 UTC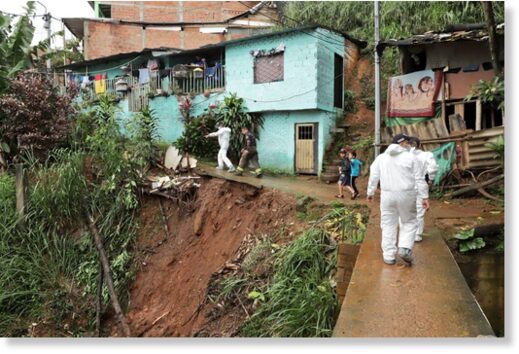 Two people have died after heavy rain triggered a landslide in the city of Santiago de Cali, capital of Valle del Cauca Department in Colombia.
Heavy rain fell overnight 10-11 March, 2021. Secretary of Risk Management in Cali, Rodrigo Zamorano, described the rainfall as "extraordinary and unusual".
Local media said in the space of around 90 minutes the city saw 60% of the rain it would normally see for the whole month of March.
Average rainfall for March in Cali is around 150mm.
Central areas of the city were flooded after the Cañaveralejo river broke its banks. The Cauca river is also high and a Yellow Alert has been issued.
---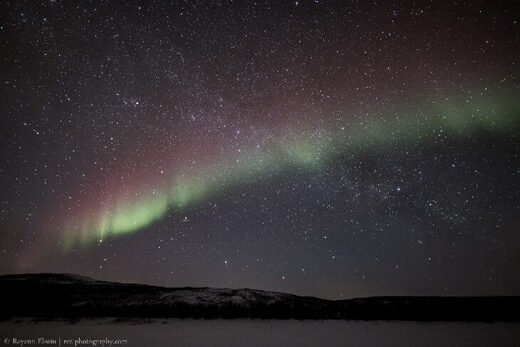 It's not easy for Earth's atmosphere to make red auroras. Even longtime Arctic photographers and tour guides rarely see them. Yet, on March 10th, there they were.
Rayann Elzein
sends this picture from Utsjoki in the Finnish Lapland. "The red auroras looked pale white to my unaided eye, but a quick exposure with my camera revealed their true color."
What's so tricky about red? The action, if you can call it that, takes place more than 150 km above Earth's surface. At that high altitude, oxygen atoms excited by solar wind slowly spit out red photons. Emphasis on
slowly
. The radiative lifetime of the transition is
110 seconds
--an eternity at the quantum scale. The atoms must remain undisturbed that long to produce their red light.
Perhaps that's why red auroras often appear when conditions are quiet. "The solar wind speed last night was quite low and there was no expectation of a geomagnetic storm," says Elzein. Tonight is expected to be quiet as well. Red auroras, anyone?
Comment:
In October last year the same Arctic photographer
captured red auroras over Utsjoki, Finland
saying, "Rarely have I seen anything like this before."
With the surge in sightings of rare or novel atmospheric phenomena in recent years it seems the electrical nature of our weather and changing atmosphere is becoming more apparent:
---